El Departamento de STEM de Dallas ISD ofrece experiencias prácticas a los estudiantes a través de excursiones interactivas.
Crystal Alexander, gerente del Departamento STEM, dijo que los estudiantes se benefician de ver cómo se aplican las habilidades en ciencias, tecnología, ingeniería y matemáticas.
"Gracias a estos paseos, los estudiantes pueden vincular lo que aprendieron en la escuela con lo que sucede en el mundo real", dijo Alexander. "Nuestra meta es lograr que se interesen más en STEM y que lo vean como una profesión viable".
Estudiantes aprenden primeros auxilios
El 25 de octubre, 75 estudiantes de seis escuelas visitaron la Universidad de Texas en Dallas para el evento STEM Goes Red North Texas de la Asociación Americana del Corazón, donde participaron en sesiones ofrecidas por Baylor, Hands-on CPR, Schneider Electric y FedEx. ¡Incluso, recibieron un botiquín de primeros auxilios para la casa!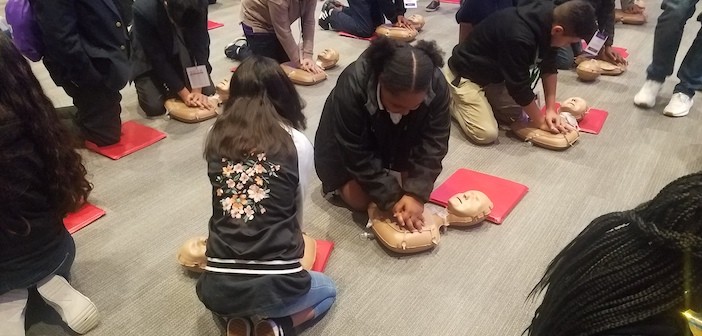 Talleres para la próxima generación de profesionales STEM
El 26 de octubre, 40 estudiantes de dos escuelas asistieron a Changing the Face of STEM, un evento realizado en UT-Southwestern. Los estudiantes participaron en talleres multimedia interactivos diseñados para captar, desarrollar y alentar a la próxima generación de profesionales STEM. Mentores para cada estudiante y una experiencia de realidad virtual capacitaron a los estudiantes de hoy para ser los innovadores del mañana.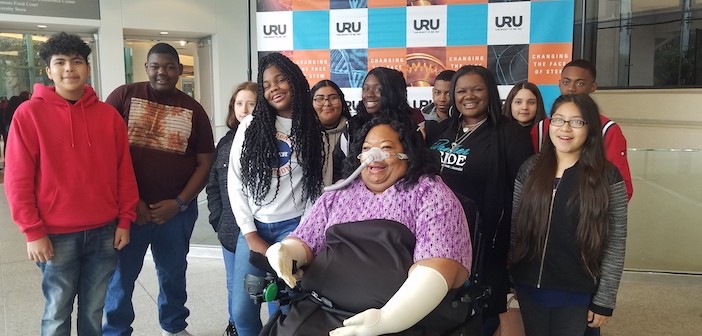 Los estudiantes que asistieron al evento realizado por URU the Right to Be también tuvieron la oportunidad de conocer a los siguientes innovadores:
Edward Castillo, PhD, Radioterapia investigativa
Joycelyn Elders, MD, primera mujer afroamericana en ser directora general de salud pública de Estados Unidos
Melanie Moses, PhD, Informática
Velma Scantlebury, MD, primera mujer afroamericana en ser cirujana de trasplantes de órganos
Rashele Yarborough, MD, médica en Meriden Family Practice
Día de ingeniería
El 22 de noviembre, 40 estudiantes de dos escuelas asistirán a Jacobs' Engineering Day, donde formarán equipos para diseñar una vía pública teniendo en cuenta algunos elementos restrictivos como cuerpos de agua, aeropuertos y cementerios. Los diseños serán evaluados según el costo de construcción, la seguridad, creatividad y el mejor diseño en general.
La actividad permitirá que los estudiantes aprendan sobre las siguientes carreras:
Inspección (planificación de una vía pública)
Ingeniería de puentes (construcción de una vía por encima de cuerpos de agua)
Ingeniería vial (diseño de una vía)
Arquitectura (gestión del diseño y de proyectos)
Ingeniería de aviación (criterios aeroportuarios)
Gerentes de construcción
La semana de la informática en NorthPark Center
Quinientos estudiantes de secundaria participarán en actividades STEM y en charlas dadas por expertos STEM durante la semana de la informática en NorthPark Center.
Durante las actividades, los participantes armarán un dedo robótico con sensores, programarán un videojuego con MakeCode Arcade y experimentarán la realidad virtual con HTC Vive y la realidad aumentada con HoloLens.