El martes, 16 de abril, sesenta y dos estudiantes de Dallas ISD de la generación de 2019 fueron reconocidos con la beca del superintendente.
Cada uno de ellos recibió $2,500 para sus estudios universitarios en la institución de su preferencia. La selección tomó en cuenta la necesidad económica del estudiante, sus valores, calificaciones, cartas de recomendación y la promesa de un futuro exitoso. Las becas son financiadas con los ingresos del torneo de golf del superintendente que se lleva a cabo cada año. Los estudiantes que recibieron la beca son: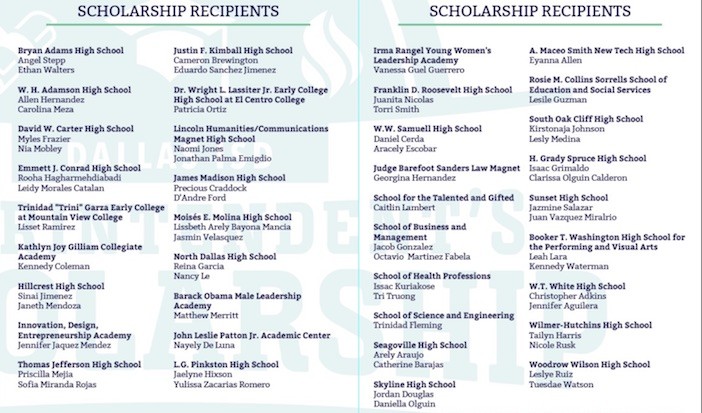 Asimismo, durante la ceremonia, se dio a conocer a los ganadores de otras dos becas.
Desiree Galloway, de Hillcrest High School; Michael Seals, de Pinkston High School; y Jordan Lawton de Seagoville High School, recibieron la beca de la Sulentic Family Foundation.
La beca Jose "Joe" May, que lleva el nombre de un exmiembro de la Junta Escolar de Dallas ISD, fue otorgada al estudiante con el mejor promedio académico que obtuvo la beca del superintendente. Caitlin Lambert de la School for the Talented and Gifted fue la afortunada ganadora de dicha beca.