Most everyone knows what a LEGO is – one of the best-loved toys among children everywhere. For decades, the small, colorful, plastic bricks have maintained staying power as a No.1 toy choice for kids, even being named the "Toy of the Century" in the year 2000. And now, Dallas ISD students of all ages are using LEGOs as building blocks to success.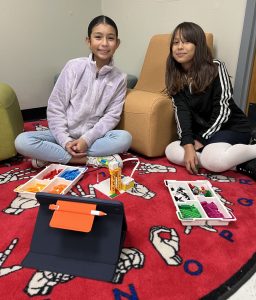 LEGO Education President Victor Saeijs traveled from Denmark this week to visit James S. Hogg Elementary School and New Tech High School at B.F. Darrell and witness how the company's product is being used in an educational space. 
"I try to go out as much as I can to see how the LEGO education solutions are being used in the classroom, what works well and what can we do better. At the end of the day, teachers are the ones who make the learning come to life. We believe if you can combine learning with play, that's when the magic happens," Saejis said. 
LEGO Robotics meet Algebra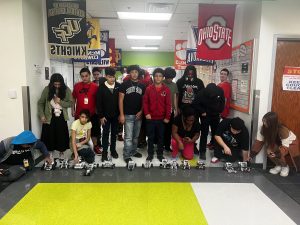 During the LEGO team's visit, freshmen at New Tech presented their Algebra project, which included programmable, motorized cars using "Mindstorm" and "SPIKE Prime" sets, advanced versions of the kits being introduced at several Dallas ISD libraries. 
Mathematics teacher Joe Jenkins seamlessly integrates Algebra and elements of Robotics for his freshman classes using LEGO kits to bring abstract concepts to life. The unique curriculum provides students with hands-on experiences in basic programming, engineering, and ideation. "We devised a curriculum that integrates LEGOs into core learning, and we've got the data to show that it works. It's not an after-school program or a fun thing to do after class. It's what my students do every single day," Jenkins said.
Jenkins emphasizes the impact of the dual-enrollment program on students who traditionally struggle with math. "LEGO is not just for students who are seeking to extend their learning or apply their imagination and dream big. It's also for students who need foundational support in mathematics – the students who need it most. That's what caught the attention of the LEGO team," he said. 
The use of LEGOs in Jenkins' classroom has proved to be a success, with an increase in engagement, confidence, and remarkable scores on the STAAR test. "Last year, 99% of our students passed the Algebra exam," Jenkins said. "My job as an educator, and as the project-based learning coordinator at New Tech is to make my kids into the stars of their own education. I'm very proud of them and excited when they get to present."
Project R.E.A.D.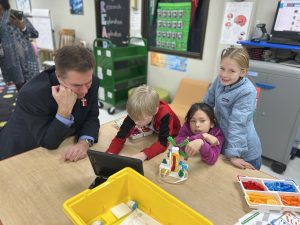 LEGO Spike kits, which vary from step-by-step pinball machines to helicopters and windmills, are now available at 84 Dallas ISD Project R.E.A.D. libraries for elementary and middle school students. Thanks to a partnership with the district's Computer Science and Technology department, students at James S. Hogg Elementary School and many other campuses will have access to LEGO coding kits from a young age. 
"We hope every kid comes to the library and that it gives every kid all the opportunities that LEGO has to offer," said Jennifer Sancedio, Library/Media Services project manager said. "Kids are building and coding at the same time because right now STEM is where it's at; STEM is the future of work. We are preparing kids for jobs that we don't even know exist yet. And the kids don't know if they like it or are good at it until they have the opportunity." 
It's about access to emerging technologies and reimagining campus libraries, she said. "When you go to a public library, you'll see they're bringing in resources to give the community exposure to things they don't necessarily have at home. LEGO tends to be an expensive product and now they can get it here at school. We're empowering librarians so they can empower students."