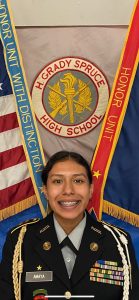 Of the 4,200 JROTC cadets in Dallas ISD's 23-school brigade, Cadet Col. Damari Amaya, a senior at H. Grady Spruce High School, is the highest ranking.
Named to the position of cadet colonel in late September, Damari is the only female from Spruce known to have held this title. Prior to her promotion, she was battalion commander at Spruce, a post she still holds in addition to commanding the overall brigade. On Veterans Day, Nov. 11, she will be leading the cadets during the Dallas parade's Flag Ceremony.
"I've been in JROTC for four years," Damari says. "I became interested because my older sister was in JROTC. I'd see her participate in competitions, and it really interested me how much she enjoyed it, so I thought I'd give it a try, too."
It's been fun, but hard work as well, she says. "I started as a freshman and I would go to promotion boards to get promoted. For the brigade competition, I needed to have a clean and organized portfolio as well as knowledge of the drill commands and first aid, and participate in team competitions – like color guard, rifle target competition, drills, and marching."
To be selected as cadet colonel, she competed against representatives from each of the district's 23 participating schools, explains Lt. Col. Anthony Smith, senior Army instructor for JROTC at Spruce. "Each of those 23 schools sends a representative they feel could hold that position, and it's knowledge-based, portfolio-based, and leadership-based along with (consideration of) other leadership potential. Damari met all of those requirements."
Spruce Principal Francine Taylor praises Damari as an "upstanding scholar who works tirelessly at academics and JROTC and is a phenomenal person. She is competitive and a trailblazer right here on campus."
Cadets at Spruce train in a class that meets every other day to learn about safety, gain leadership skills, and practice marching. Damari's leadership extends beyond JROTC classrooms, her instructors say, as she participates in school activities and supports other cadets with schoolwork and special projects.
There are categories of activities that must be recorded annually to ensure that cadets are exposed to training that makes them better citizens, which is the mission of JROTC. And the Cadet Corps helps encourage students to continue with higher education after high school.
"One of our major priorities is continuous improvement, and our cadets focus on what we call the 'center of gravity,' learning about how to go to college," says Lt. Col. Smith. "We focus on the seniors getting letters of acceptance – as part of Dallas ISD's emphasis on college, career or military." He notes that Spruce's JROTC staff has set a goal for 70% or higher of the JROTC seniors in the battalion to apply to college. "We always get 70% or higher – sometimes 100% – applying. Cadets do that in the course of going to school and working with the eight staff members who coordinate with college representatives."
After high school, Damari says, "I want to attend a four-year college and become a commissioned officer." She is looking into Texas A&M, Texas Christian University or UT Arlington, and although she hasn't yet settled on a course of study, she says, "I plan to get a college degree and enter the military."