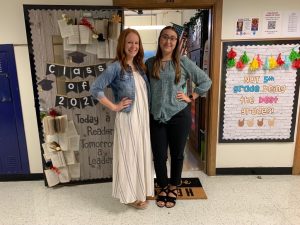 First-grade teacher Katie Holt and instructional coordinator Natalie Cruz-Garcia of the Biomedical Preparatory at UT Southwestern had no idea that they would become such close friends and co-workers nine years ago when they were 2014 corps members in Teach for America and were placed in Dallas ISD.
"I have a core memory of setting up our classrooms at the same time our very first year," Holt said. "We were constantly going in and out of each other's rooms, planning how we were going to make our first bulletin boards and organize seating arrangements. Details that now we don't think twice about. We built those skills together." 
They were both initially placed at George Washington Carver Creative Arts Learning Center as third grade teachers. When the campus closed, they moved to Stevens Park Elementary School thanks to a mutual connection, and now they are working to make a difference at the new Biomedical Preparatory. 
"It was chance that we've been together for the past nine years, and it's been really special," Cruz-Garcia said. "We've been able to share students and develop strong relationships with them, especially because we have worked so well together." 
Holt moved to Dallas from Arizona, while Cruz-Garcia came from Ohio, and they have loved getting to know the best parts of Dallas by developing friendships with former students, families, co-workers and each other. 
Some of their favorite memories include conducting home visits, helping their fifth-grade students go from a 40 percent passing rate on their State of Texas Assessments of Academic Readiness (STAAR) tests in fourth grade to a 90 percent passing rate, and receiving invitations to former students' quinceaneras.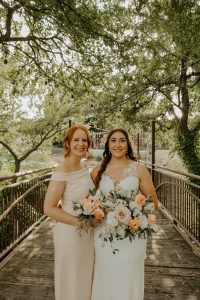 "I really can't imagine teaching anywhere else," Holt said. "Dallas is our home geographically but also emotionally because there's so much tied to where we live—so much love for our students and their families and the teachers around us. I can't imagine ever leaving that because even on the hardest days, I have people around me to help me through it." 
In fact, the two friends are so committed to showing up for each other that when they got married this past summer just six days apart, Cruz-Garcia flew to Arizona to be one of Holt's bridesmaids, while Holt cut her honeymoon short to be one of Cruz-Garcia's bridesmaids in Texas. 
"I know I wouldn't have made it through my first year without Katie, and still nine years later, I would not make it through without her support," Cruz-Garcia said. "Katie has helped me as a teacher and just as a person all around." 
"A couple of years ago, I was a finalist for Teacher of the Year in the district, and I was asked, 'Who is someone that has had the most impact on you as a teacher?' And it's Natalie," Holt agreed. "She has grown me as an educator, being my co-teacher and a coach, and I know I wouldn't have a lot of the accomplishments that I have under my belt if it wasn't for her."