Dallas ISD and school districts across the state are celebrating School Board Recognition Month in January as a time to thank local leaders for their dedication as volunteer advocates for children and public schools.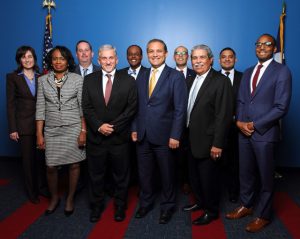 This year's theme is "Planting Seeds of Success." Dallas ISD trustees do that by not only making districtwide policy and purchasing decisions at monthly meetings but also by visiting schools and talking with constituents in their individual districts.
Overall, school boards are charged with establishing a vision for a district's education program, designing a structure to achieve that vision, ensuring that schools are accountable to the community, and advocating for continuous improvement in student achievement.
Each school year, Dallas ISD asks nine busy professionals to collaboratively manage a school system with more than 156,000 students and an annual budget of more than $1 billion. At the same time, they must consider and contend with the realities of boosting academic achievement for children from a variety of socio-economic and ethnic backgrounds. The end goal is to foster an environment that ensures quality instruction, increases student achievement and produces graduates who are prepared for success in college or careers.
Learn more about Dallas ISD trustees on the district website here. The trustees are:
President, Edwin Flores, J.D., Ph.D., District 1 (Northwest Dallas)
1st Vice President, Dan Micciche, District 3 (Northeast Dallas)
2nd Vice President, Joyce Foreman, District 6 (Southwest Dallas)
Secretary, Justin Henry, District 9 (South Dallas)
Dustin Marshall, District 2 (North and Near East Dallas)
Jaime Resendez, District 4 (Southeast Dallas, Seagoville and Balch Springs)
Lew Blackburn, Ph.D., District 5 (Oak Lawn, West Dallas, Wilmer, Hutchins, and portions of East Oak Cliff)
Audrey Pinkerton, District 7 (North Central Oak Cliff and parts of West Dallas)
Miguel Solis, District 8 (Love Field, Northwest Dallas, Central Dallas)