Dallas ISD has met board policy of having two months of unassigned fund balance for the first time since June 2013.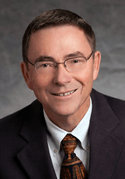 Meanwhile, a five-year financial forecast shows Dallas ISD is positioned to remain on solid financial footing for the foreseeable future, a financial report says.
Dallas ISD Chief Financial Officer Larry Throm briefed trustees on the district's financial report during the Dec. 13 board meeting. Following his presentation, Superintendent Michael Hinojosa announced that Throm would be retiring again.
"Larry has done a phenomenal job in this district and we are set for the next five years thanks to his work," Hinojosa said.
Throm served as Dallas ISD CFO during Hinojosa's first stint as superintendent. In his second term as superintendent, Hinojosa convinced Throm to come out of retirement in 2017 to serve again as CFO.
During his budget presentation, Throm thanked Dallas voters for their significant support for the Tax Ratification Election and bond election to purchase busses. He also thanked trustees and the community for the opportunity to serve Dallas ISD.