Dallas ISD elementary students are looking to bag a prize in a new competition that encourages recycling.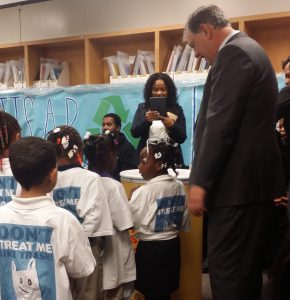 The It's A Bag's Life Recycling Challenge gives students a change to learn about the 3Rs—reduce, reuse and recycle—and enjoy a competition to see which campus can collect the most plastic bags and wraps per student. The contest kicked off Dec. 10 and ends April 22, Earth Day. Every participating school will get a prize, and the school with the most bags collected will win a park bench made from recycled plastic bags.
Mayor Mike Rawlings and representatives from local business partners— Kroger's, Walmart, Albertsons, Texas Retailers Association, Tom Thumb and the City of Dallas —announced the launch of the competition at Elisha Pease Elementary School, which is an ACE campus. Rawlings and the local business partners talked about the importance of recycling and how it can improve the schools and communities of Dallas. After the speeches, students stuffed their first bags into the recycling bin.
"This program is important to the development of our students," said Tom Hayden, manager of Dallas ISD Volunteer and Partnership Services. "It provides them a way to take part and ownership of their community and their future"
The It's a Bag's Life recycle program is part of Mayor Mike Rawlings Grow South program, which focuses on the development and improvement of the lives of those living in the southern sector of the city by bringing community business partners to team with local schools as part of the recycle contest.