Great things are happening in Dallas ISD schools every day.
Show and Tell is a weekly feature on The Hub that rounds up some of the news happening across the district into one place. If you have any story ideas for Show and Tell, email thehub@dallasisd.org.
Hockaday students, staff volunteer across feeder to support literacy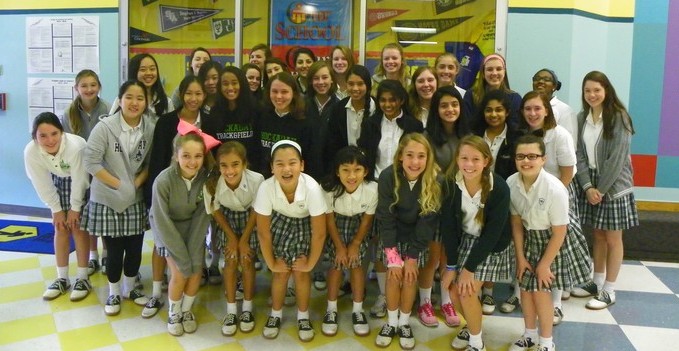 Hockaday students and teachers arrived on campuses throughout the Thomas Jeffeson High School feeder last Thursday to support literacy projects at four elementary schools—Saldivar, Knight, Burnet, and Field. Hockaday is one of several private partners in the P3 Network, in which all TJ Feeder elementary schools participate. (From the TJ feeder pattern newsletter)
Vanguard student wins city's Veterans Day art contest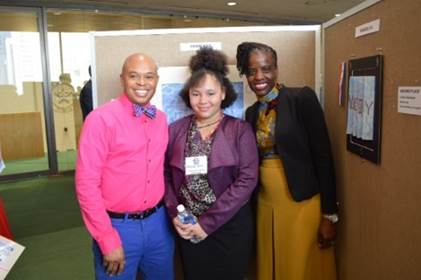 J.P. Starks Vanguard student Alaysha Burns was named the winner of the 3–5 grade category of the city's annual Veterans Day art contest. The fifth-grader received a blue ribbon for her interpretation of the iconic photo of soldiers raising the American flag on the Japanese island Iwo Jima during World War II.
Lincoln and Skyline athletes sign letters of intent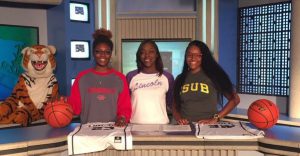 Four Dallas ISD student-athletes signed National Letters of Intent ( NLI ) to attend and compete in collegiate athletics at the following universities. The Skyline students are Jostyn Andrews (Track and Field at TCU) and Jameshia Amand (Girls Basketball at Florida International University), and the Lincoln students are Korie Leary (Girls Basketball at Nicholls State University) and Jalah Walton (Girls Basketball at Cal State University at Bakersflied).
Bryan Adams High School's Hank Willis named Coach of the Week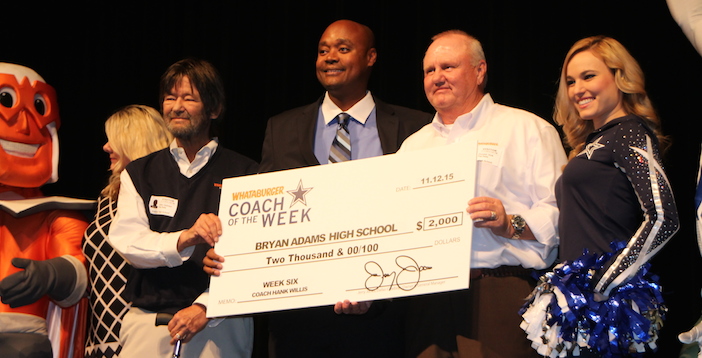 Hank Willis Jr., head coach for the Bryan Adams High School football team, was honored by the Dallas Cowboys and Whataburger as the Coach of the Week (week 6) recently during a pep rally at the school. Making an appearance was Rowdy, the spirit-filled mascot for the Cowboys, who was joined by members of the Dallas Cowboys Cheerleaders to help present a check to Willis for $2,000 to go toward the football program. Dallas ISD Athletic Director Gil Garza and Principal Richard Kastl also joined in the celebration.
Moreno Elementary new chess club goes to first meet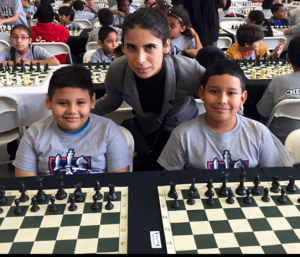 Moreno teacher Irazema Lopez Coy started a Chess Club this year at Moreno with students from third–fifth grade in order to build strategic thinking skills. The club went this past week to a Dallas ISD meet at Conrad High School, where the fifth-grade team placed 10th out of 28 teams. Ryan Aguilar, a third grader who played with fourth graders, placed 29th out of 148 participating students. (From the Kimball feeder pattern newsletter)
Volunteers pitch in at DeGolyer Elementary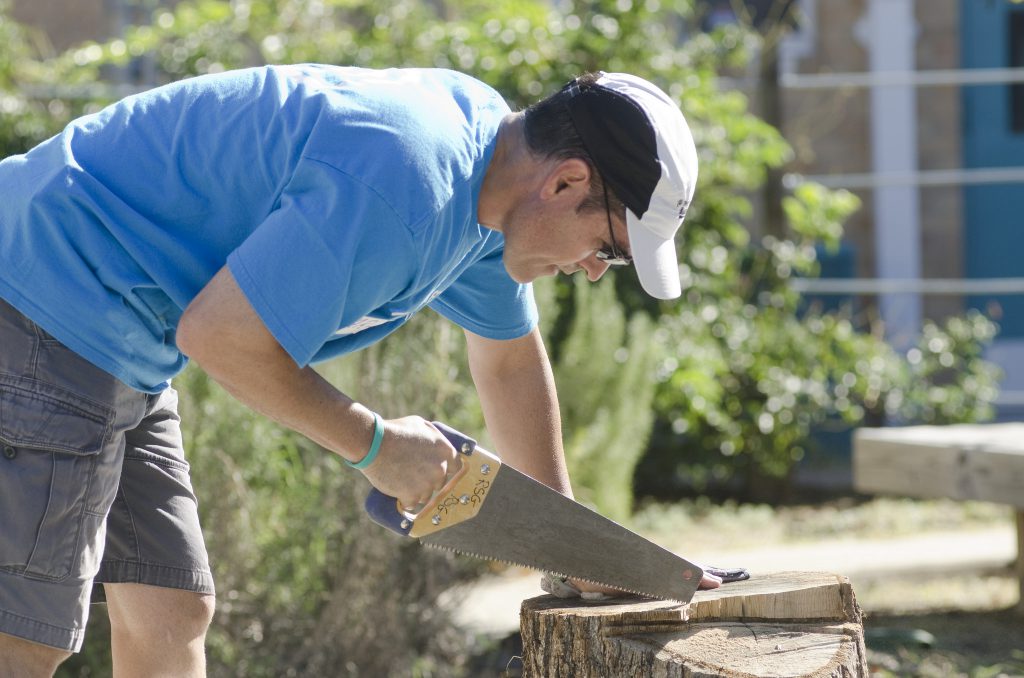 Through its partnership with REAL School Gardens, Everette Lee DeGolyer recently received its first garden enhancement. REAL School Gardens, Time Warner, and Wells Fargo provided volunteers to enhance DeGolyer's vegetable and Discovery gardens. The enhancements improved growth potential in the vegetable garden and enhanced outdoor classroom opportunities.
Thomas Jefferson High School sees big homecoming tailgate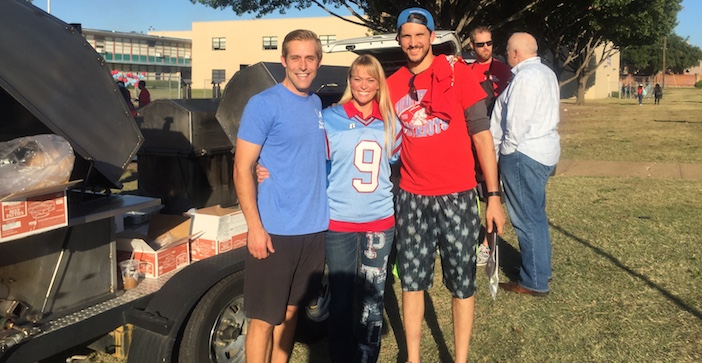 More than 500 students and community members showed up for the pre-game tailgate and spirit party at Thomas Jefferson High School's homecoming game. The tailgate was hosted by TJ ambassadors with help from Young Life, The Village Church, and Watermark.
Woodrow alum donates WWII news front pages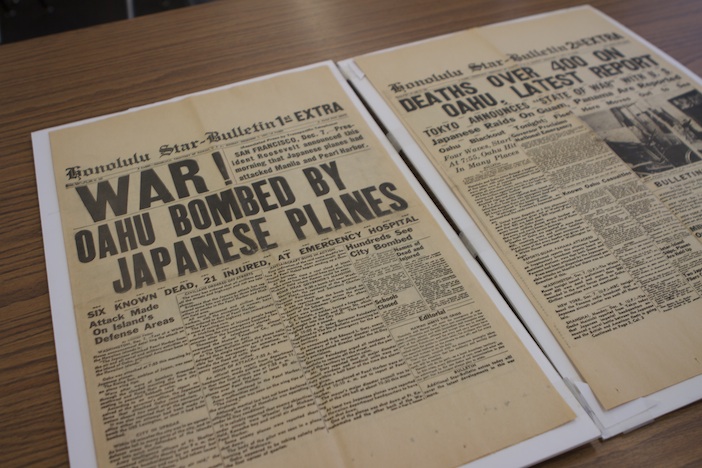 Woodrow Wilson Class of 1977 graduate Kim Fincher LeQuire donated original front page news prints featuring breaking news coverage of the 1941 Oahu bombings that took place during World War II. The first edition of the Dec. 7, 1941 Honolulu Star-Bulletin's headline reads "War! Oahu bombed by Japanese Planes" next to President Franklin Delano Roosevelt's announcement of the Pearl Harbor and Manila bombings that took place earlier that day. The second edition, also donated to Woodrow, announces Tokyo's declaration of war with the United States and estimates the day's death toll at 400. LeQuire's father Jack W. Fincher got the newspapers as a child and protected and stored them until he passed away in 2009.