Great things are happening in Dallas ISD schools every day.
Show and Tell is a feature on The Hub that rounds up some of the news happening across the district into one place. If you have any story ideas for Show and Tell, email thehub@dallasisd.org.
Aspiring actors get tips from the experts at Theater Arts workshop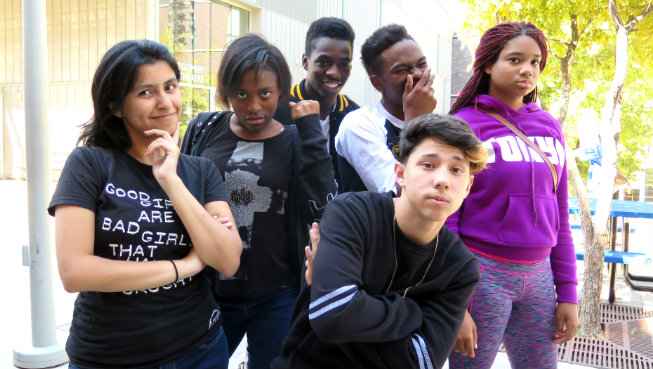 Improvisation, movement, playwriting and dialogue are major elements of the world of theater. The chance to learn these skills attracted some 250 middle and high school students to a full day of training offered at the recent Irma P. Hall Theater Workshops. Sponsored by the district's department of Theater and Dance, the event was held at the district's premier arts venue, Booker T. Washington High School for the Performing and Visual Arts. The day of training featured professionals from the Dallas Theater Center, area colleges and local acting companies who conducted show and tell sessions with students. Students from L.G. Pinkston High School were among the young participants soaking up the advice. The aspiring thespians will return to their campuses to practice their new knowledge in preparation for holiday performances, coming UIL contests and the 2016 theater arts festival named for renowned Dallas actress Irma P. Hall. See a video about the workshop here.
Dirt flies at San Jacinto Elementary garden installation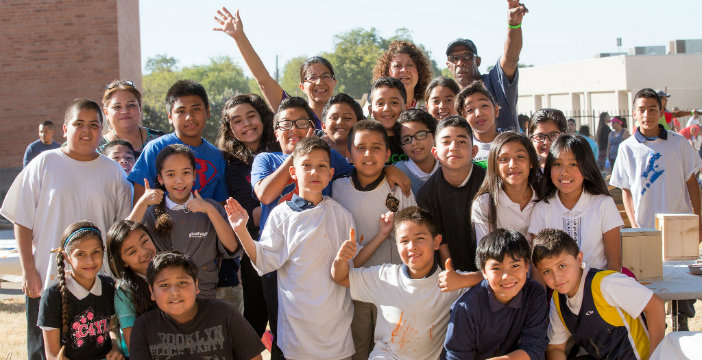 More than a hundred parents and volunteers recently joined the staff and students of San Jacinto Elementary in painting, planting and beautifying the school's courtyard in a garden installation coordinated by the nonprofit organization REAL School Gardens. By the end of the Big Dig installation, the team had transformed the courtyard into a colorful learning garden featuring murals, birdhouses, plant beds, and benches. The project was a partnership of REAL School Gardens, the travel technology firm SABRE, SWA landscape architects and VHA healthcare network.
R.C. Burleson Elementary sponsors book fair and learning event for parents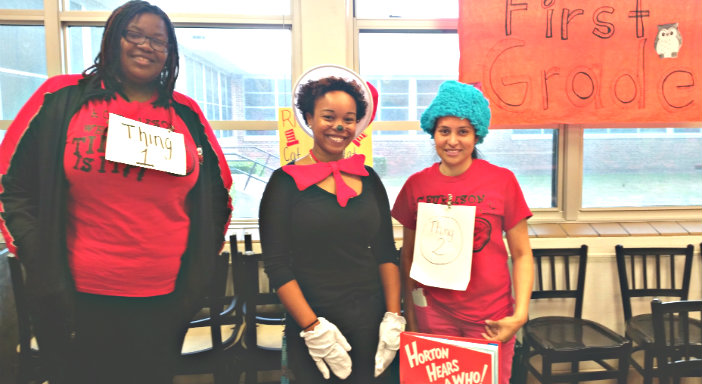 Extracurricular learning opportunities attracted both students and parents at R.C. Burleson Elementary this month. Students shopped for their favorite books at the school's annual book fair while parents learned more about helping their students at a special family reading and math night. To dramatize the fun of reading, some Burleson teachers dressed as their students' favorite book characters.
Southwest Airlines CEO lands at Maple Lawn Elemenary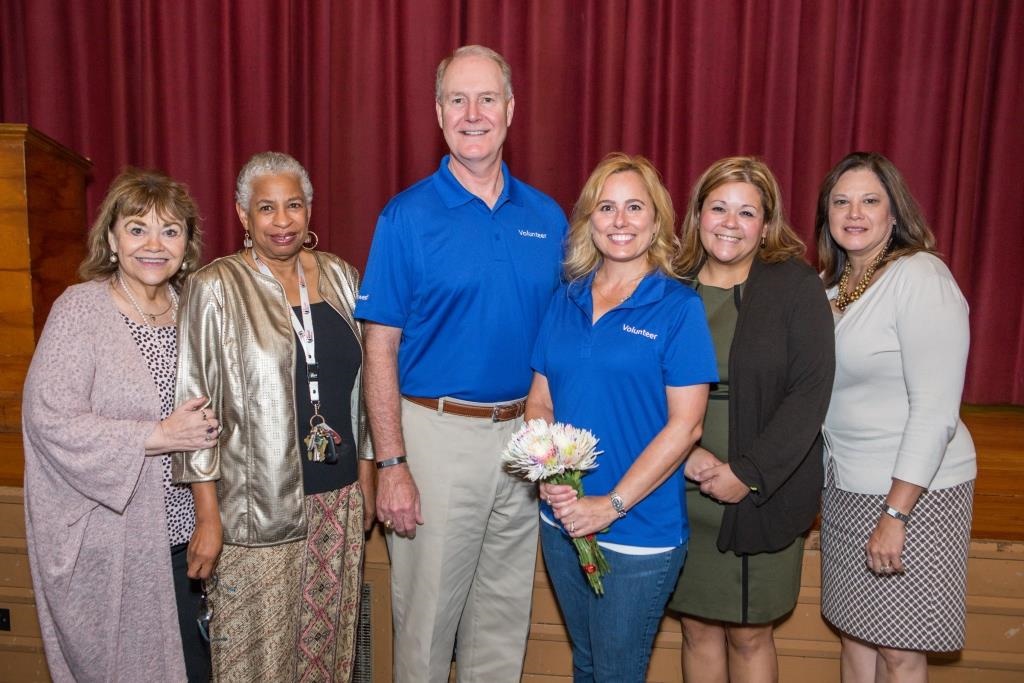 Maple Lawn Elementary is still flying high after Southwest Airlines brought volunteers to the school this week. Southwest Airlines CEO Gary Kelly and Director of Personnel Julie Webber talked to a fifth-grade class at the school. Meanwhile, about 50 employees from Southwest Airlines volunteered to pull weeds at Maple Lawn's Real School Garden.
Anne Frank Students enjoy presidential scavenger hunt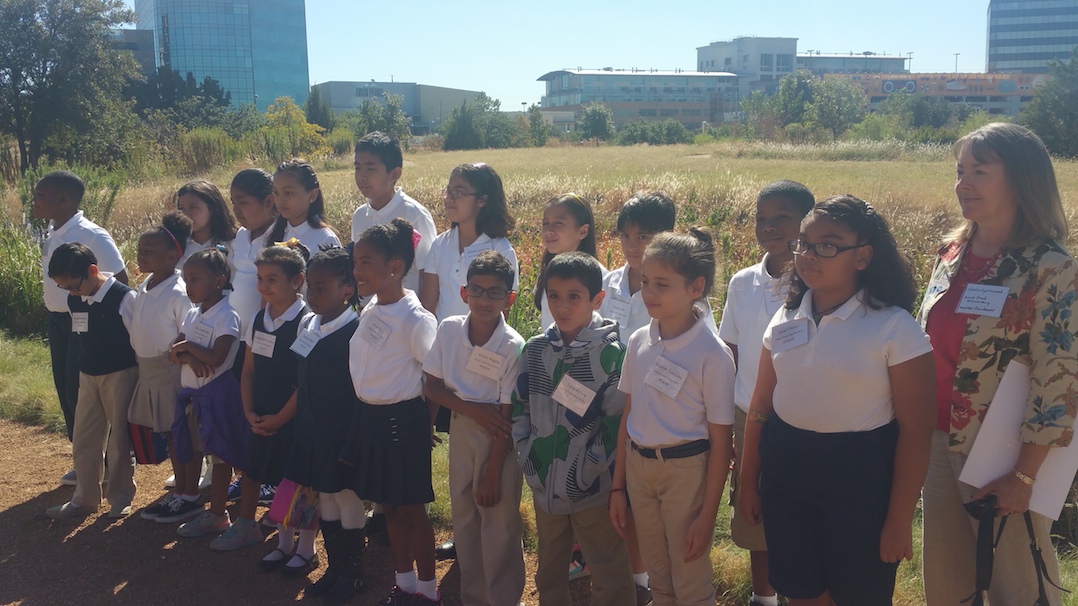 Anne Frank Elementary students visited the George W. Bush Presidential Library and Museum on Oct. 12 as part of an event announcing the launch of a new conservation effort to repopulate the monarch butterfly population. After an announcement ceremony that saw former First Lady Laura Bush cite the many benefits of the Monarch Butterfly, students from Anne Frank enjoyed a scavenger hunt in the museum gardens.
Frederick Douglass Elementary kicks off annual M.L. King Jr. oratory contest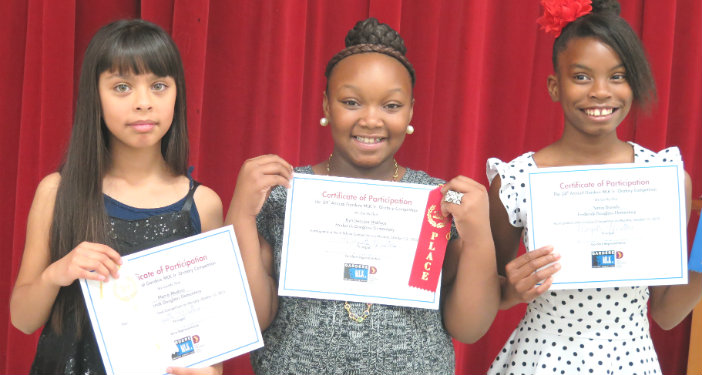 What would Dr. King say in his campaign speech if he were running for President this year? Fourth- and fifth-grade students at 15 district schools are working on their original essays on that prompt in the first round of competition in the Gardere M.L. King Jr. Oratory Competition. On a recent morning at Frederick Douglass Elementary School, seven students recited their original essays on the topic in front of judges from the Gardere Wynn Sewell law firm, sponsors of the annual competition.
The first-place orators from each of the participating campuses will be invited to recite their essays at the event semi-finals to be held at district headquarters in December. From there, the finalists will recite their essays before a public audience and a panel of professionals at the January 15 event at the Majestic Theater.