One thing Matthew Adesanya has learned from his eighth-grade Physics students at Fred F. Florence Middle School is that time flies when he's trying to get them to complete an activity.
"You give them 5 minutes to do something, and it takes 20," Adesanya laughed.
There were several times students needed refocusing, and he would belt out "Attention!" followed by a series of instructions.
At the beginning of a recent class, the students were calculating velocity using a complex algebraic formula. The subject matter itself presents another hurdle: he estimates that about 70 percent of the students have yet to take algebra.
"I have to reinvent the wheel, to make it simpler," he said.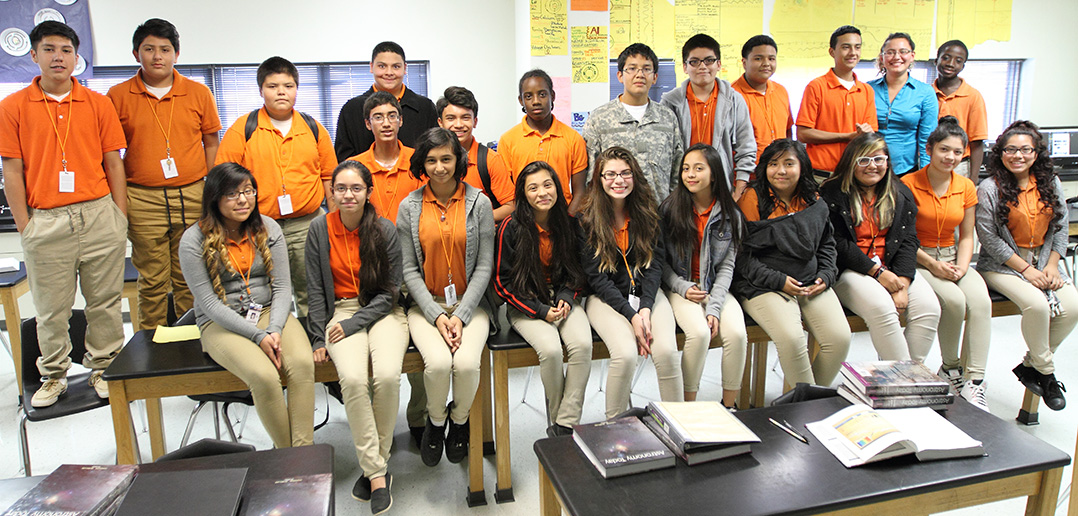 After calculating velocity, students brought the concept to life in a group activity. Using motion detectors connected to laptops, they measured the speed of students as they walked toward and away from the device. The goal was to create a specific line on the graph based on the instructions to walk slowly or faster. The first activity took a bit longer than expected, but students were able to move on to the next one before class ended.
The majority of the students were engaged, interested and seemed to understand the concepts – especially with the lessons being reinforced through the hands-on activities. Once the bell rang, they demonstrated velocity by quickly exiting into the hallway toward the cafeteria.
At Hector P. Garcia Middle School, Andrea Jiménez is directing her students who are logged onto a NASA website on 10 computers along the perimeter of the classroom. They are finding information about the James Webb Space Telescope to learn about the importance of collecting astronomical data.
The theoretical nature of astronomy isn't always easy to grasp. When it comes to space, scientists use what they know to offer best guesses.
"That's why they struggle," Jiménez said. "They're like, 'How do they know?' Well, we think they know."
Add to the struggle the fact that the eighth-graders are learning high concepts usually presented to high school juniors and seniors. Further, science itself is a moving target. A regular discussion on current events – "Science Today" – is a time to talk about new discoveries and happenings.
"Science is something you're always going to have to be studying because it's always changing," she said.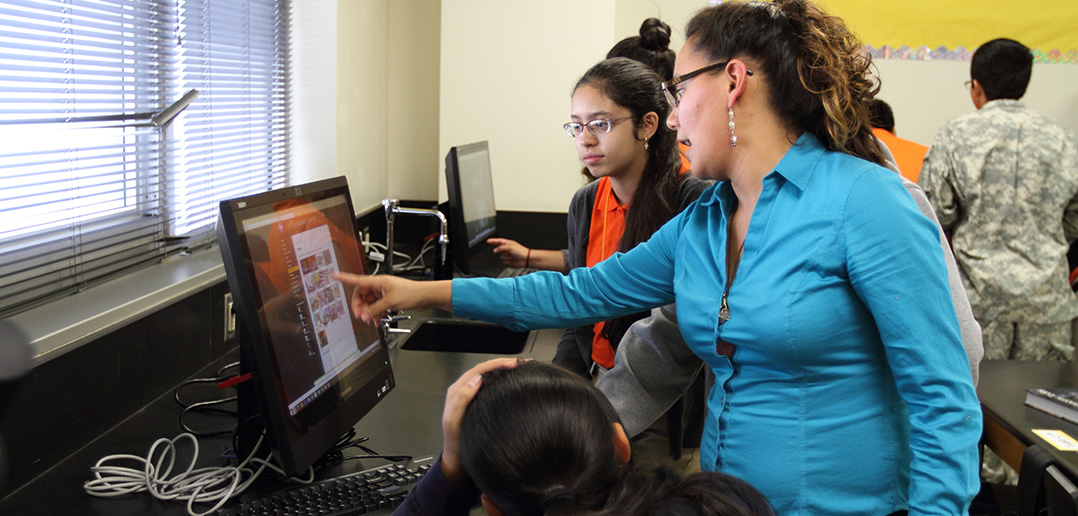 Associate Principal D'Jamalia Freeman said Garcia Middle has at least seven opportunities for students to earn high school credit there. Astronomy is an incredible chance for students, she said.
"It's about opportunity. I'm glad we're able to give them a hand up before they leave for high school," she said.
Last year, campuses chose which science course they wanted to offer: 19 chose Astronomy, 14 chose Physics. Ten other schools began accelerated Pre-AP science courses this year, and those will offer Astronomy or Physics in 2016-2017 or 2017-2018.
Before their eighth-grade year is over, all students in Texas choose an "endorsement" that helps determine a focus in reaching graduation requirements. Changes in the state law – HB 5 – allow students to take high school science courses in non-sequential order.
Dallas ISD STEM Science director Jenny Christian said that students who choose the STEM Science Endorsement must earn five science credits – one more than with other endorsements. Taking Astronomy or Physics in the eighth grade puts students ahead.
"This way they do not have to 'double up' and take two science courses at the same time for one year," Christian said. "Obtaining a STEM endorsement helps prepare these kids for the college courses necessary to pursue careers in areas of increasing need."
To offer the classes also requires teachers who are able to teach them.
"We spent all of last year recruiting certified science teachers to teach these courses," Christian said, adding that the district offered training to middle school science teachers this past summer to help them prepare for the certification test.
As for the students in her Astronomy class, Jiménez hopes they find a new perspective – and that they consider their place in the universe.
"We often think we are so big," she said. "What I want them to take away is an understanding about how small we really are as individuals."