From a published author roaming the halls of Longfellow to a Hillcrest alum gifting a sculpture to his old school, plenty of great things are happening in Dallas ISD.
Show and Tell is a feature on The Hub that rounds up some of the news happening across the district into one place. If you have any story ideas for Show and Tell, email thehub@dallasisd.org.
Hillcrest alum gifts sculpture to the high school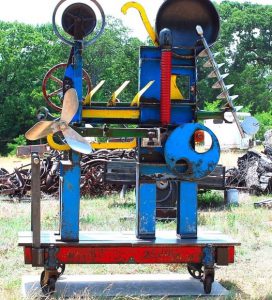 George Tobolowsky, a Hillcrest High School alum (1967), successful attorney and businessman, has turned his skills to sculpture. Tobolowsky has gifted Hillcrest with his latest sculpture, "Surfing the Warehouse." The sculpture is being installed on the front of Hillcrest on Sept. 21. In the past 10 years, Tobolowsky has produced more than 425 sculptures, 23 solo museum and public art exhibitions, and 30 group exhibitions, with pieces in public and private collections throughout the U.S. and, now, India.

Nathan Adams students "travel around the world" via books
Nathan Adams Elementary School partnered with Jesuit Preparatory this month to celebrate World Literacy Day in a big way. Under the theme "Promote Literacy, Spread Peace," students and teachers gathered in the Nathan Adams Learning Garden and read children's books in 15 different languages while at the same time learning about new cultures. Students had their "passports" stamped as they "traveled" to the 15 different countries.
Booker T. Washington junior named a winner in playwright competition
Leah Davis, a junior at Booker T. Washington High School for the Performing and Visual Arts, has been named a winner of the 2015 VSA Playwright Discovery Competition that recognizes excellence in young playwrights. The VSA Playwright Discovery Competition is an annual competition that invites middle and high school students with and without disabilities to examine the disability experience and express their views through the art of script writing. The program was begun in 1984 by Ambassador Jean Kennedy Smith, and it has continued annually since. Davis' play is based on the events in the life of a childhood friend with autism. Davis is a member of the National Honor Society, International Thespian Society, National Science Honor Society, and Mime Troupe.
Published author roams the halls of H.W. Longfellow Academy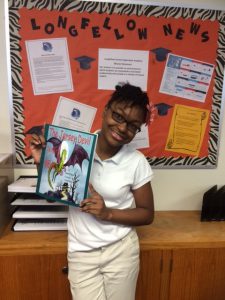 In addition to being a seventh-grade student at H.W. Longfellow Academy, Kamille Padgitt is a published author. As a member of ASWIFTT Jr. Writer's Guild, Kamille is receiving mentoring and support to develop her chosen literary craft. In addition to being a great student, Kamille is a vocalist in the All City Choir and recently won a silver medal for her participation in the Irma P. Hall Theatre Arts Festival. Padgitt said she wants to publish more fiction stories in the future, and that her goal is to become a teacher and author like her mother. (From TJ High School Feeder Pattern Newsletter)

Tom Field Elementary library receives restoration support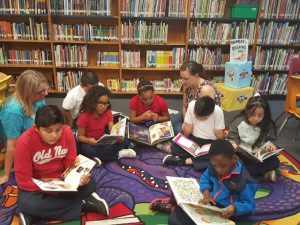 The Tom Field Elementary School library is getting a bit of a facelift thanks to the Junior League of Dallas and Northpark Mall. The library restoration project to be funded by the Junior League has garnered the attention and support of NorthPark. Videos and photos of the project will be posted on the mall's website and Junior League's website as part of NorthPark's "50 Years of Giving" campaign. (From TJ High School Feeder Pattern Newsletter)