On the surface, there is not much that connects Jamie Foxx, Dan Rather, and the Booker T. Washington High School for the Performing and Visual Arts.
However, the Dallas ISD high school joined the company of those household names, as well as other legendary Texas' artists, entertainers, and arts patrons, at last week's Texas Medal of Arts Awards. At the award ceremony held Feb. 25, Booker T. Washington High School was one of 15 honorees recognized for their "powerful contributions to the arts here at home and around the world."
Booker T. Washington Principal Dr. Scott Rudes traveled to Austin to receive the award on behalf of the school.
"It was an incredible opportunity to speak with artists, politicians, and philanthropists about this amazing institution," Rudes said. "Without exception, everyone I spoke with was positively thrilled about (our high school) receiving this award. In fact, as I was introducing myself to former First Lady Laura Bush, I didn't even get the name of our school out before she started expressing her admiration for our school and the amazing students and faculty we have here!"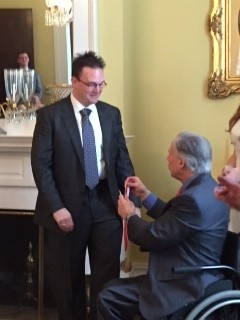 In its eighth biennial year, the Texas Medal of Arts Awards have spotlighted and celebrated 83 Texas leaders and luminaries who have "achieved greatness through their creative talents, as well as those whose generosity has opened doors to artistic opportunity for Texans of all ages." Booker T. Washington is the first school or institution to receive the award.
As the signature event for the Texas Cultural Trust, the Texas Medal of Arts Awards, which was held at the Long Center for the Performing Arts in Austin, highlighted and promoted the power of the arts to stimulate children's education and the state's economy and to preserve the unique and proud Texas culture.
"The Texas Medal of Arts Awards recognizes those whose artistic talent and generous philanthropy have illuminated the vibrant artistic culture of our state," said Jennifer Ransom Rice, executive director of the Texas Cultural Trust. "People from all over Texas and from all types of creative expression are honored and celebrated as we raise awareness about the importance of the arts with the hope of continuing and expanding it for future generations to appreciate, embrace, and enjoy."
The full list of this year's honorees:
T Bone Burnett – Music
Jamie Foxx – Film
Kilgore College Rangerettes – Dance
Rick Lowe – Visual Arts
Dr. Pepper Snapple Group – Corporate Arts Patron
Margaret McDermott – Individual Arts Patron
Emilio Nicolas – Multi-Media
Dan Rather – Television
Charles Renfro – Architecture
Robert Schenkkan – Theatre
Booker T. Washington High School for the Performing and Visual Arts – Arts Education
Lawrence Wright – Literary Arts
Chandra Wilson – Television
Ruth Altshuler – Standing Ovation
The Gatlin Brothers – Lifetime Achievement