While Oscar Sanchez played a heated game of chess with his son Jorge, Emma Lozano was showing her mother how to play video games competitively. And Zephila Olymvile, 3, explored all the games and prizes available at this week's Kimball Knights Out event that gave families like these a chance to experience the various after-school activities offered by Dallas ISD in that community.
"This is the first time we come to an event like this, and we are impressed by what we found," said Sanchez, whose son attends Margaret B. Henderson Elementary School. "We play chess at home, but it's nice to see all the other activities they offer for all the children. It's also great to see the high school they'll be attending someday."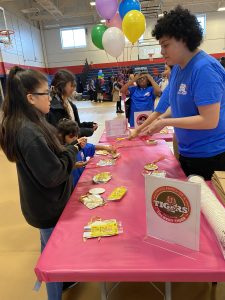 Even heavy rain did not keep the almost 1,000 parents and students—including Dallas ISD team members and their children—from joining in the fun provided through a partnership between the Justin F. Kimball vertical team schools and Student Activities.
 "This is a really great way to connect with our communities and represents what urban education and an urban district are all about," said Efrain Tovar, principal at Leslie A. Stemmons Elementary School. "It shows parents what we have to offer and that we are here for the students. And it allows students from elementary, middle and high school to come together and see that school is an important part of their lives."
 Executive Director of Student Activities Sharla Hudspeth was excited to partner with the Kimball feeder schools because she knows that after-school activities, such as the ones offered during the Kimball Knights Out event, often change the school experience for students.
 "These events let students see their peers and their teachers in a different light and they are a great way to promote extracurricular activities while creating a sense of community and belonging," Hudspeth said. "We want to show families that we have it all, great academics and a lot of extra opportunities to explore student interests, which is often the reason that keeps them coming to school."
 In 2015, the Dallas ISD Board of Trustees set the goal of having every student get involved in at least one extracurricular activity, and since then, Student Activities has expanded participation as well as the types of activities that are offered. In addition to interscholastic academic competitions (UIL), the department coordinates programs in academic decathlon and pentathlon, cheerl
eading, chess, debate, newspaper and yearbook, Destination Imagination, and more recently esports, so that there is something for every student.
 Activities like the ones featured during Kimball Knights Out help students gain life skills like critical thinking and leadership and give them a sense of belonging that helps to focus their interest in school and productive activities, Hudspeth said.
 Esmeralda Lozano, whose daughters attend elementary, middle and high school in the feeder pattern, said she had never realized how much the district has to offer students until she attended the event. She is grateful for the opportunities for her daughters, especially at a time where students can encounter so many challenges in their lives outside of school.
"I really like it," she said. "It makes them happy to be part of these activities. More students should be aware of them."