The Robotics Education & Competition Foundation (REC) and VEX Robotics, the leading provider of educational and competitive robotics products, recognized Dallas ISD with the 2022 Partner of the Year award.
Representatives from the District's Computer Science & Technology Department accepted the award during the VEX Robotics World Championship opening ceremony on Tuesday, May 10th.
More than 20,000 students from 49 states and 36 countries, and their custom-built robots, competed in timed matches at the 2022 VEX Robotics World Championship last week. Twenty-nine teams from 18 Dallas ISD schools earned the opportunity to compete at the event at the Kay Bailey Hutchison Convention Center in Dallas.
"Dallas ISD began hosting VEX robotics competitions in 2015. Since that time, we have grown from a handful of robotics teams to over 300," said Jeffrey Marx, Dallas ISD Computer Science & Technology director. "The Computer Science & Technology Department is honored to be recognized for our work growing competitive robotics in Dallas ISD and helping to inspire students to pursue careers in STEM."
REC and VEX Robotics invited three members of the LadyBots, the Casa View Elementary all-girls team, to introduce the award. The team earned the Excellence Award at the U.S. Open Robotics Championship in Iowa this year. The organizations asked Patricia Cortez, the Casa View 3rd grade math and science teacher and the LadyBots coach, to highlight the ways that Dallas ISD supports schools through Competitive Robotics programs.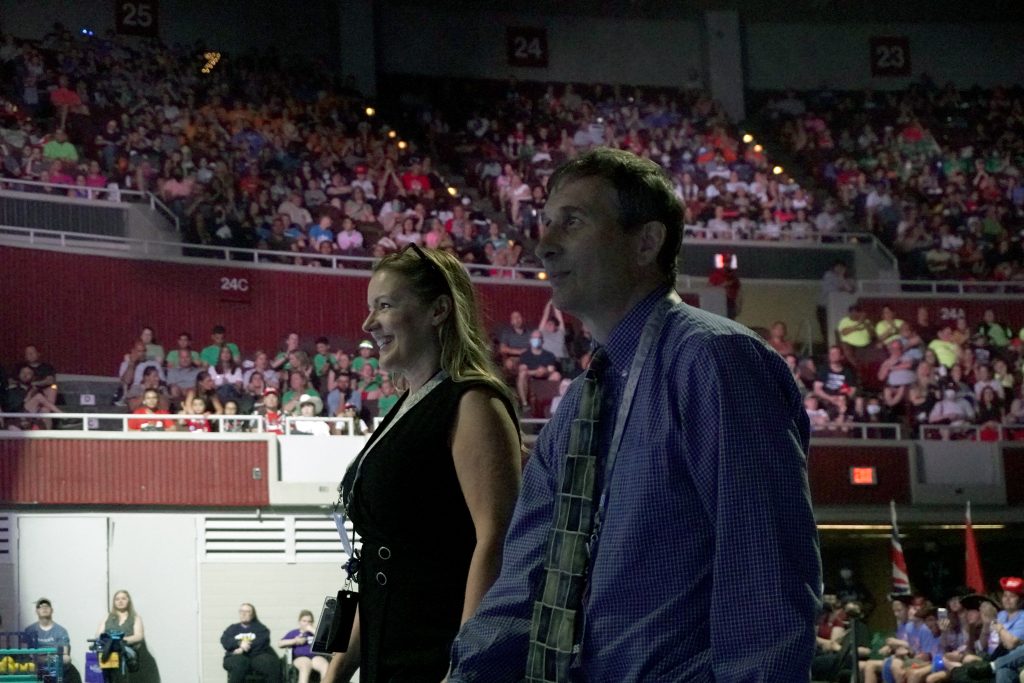 "We are learning so much about robotics and engineering, and are grateful that because of this partner's support, we will be able to continue studying and competing in robotics through middle and high school," Cortez said. "We have been inspired by other students and teams within the community that this partner created and are grateful for the opportunity to collaborate and cheer each other on all while competing."
Most Dallas ISD schools offer this program as an after-school club, where students from all ages and backgrounds put into practice the lessons that they learn in the classroom. From coding and designing to writing, public speaking and problem-solving, students involved in Competitive Robotics engage with all the curriculum.
Computer Science & Technology, a branch of the Dallas ISD Academic Enrichment & Support Department, is currently managing the district's robotics efforts. They assist schools by providing support for team registration and setup, offering professional development for robotics coaches, and supplying robotics equipment and game elements. The department also hosts over 25 robotics events on Dallas ISD campuses, and provides busing to teams for local travel, as well as transportation, hotels, food expenses and stipends to teams traveling to state and world robotics competitions.
"You can tell Dallas ISD is dedicated and passionate about providing the best opportunities for their students," said Amelia Gulling, vice president of development, marketing and operations for REC. "They are fun and easy to work with and do so much for the robotics community."
Dallas ISD is the largest VEX Robotics event partner in the D-FW area. The district has hosted 12 in-person VEX robotics tournaments at Dallas ISD schools where VEX robotics teams from all over D-FW compete. The Dallas ISD Special Services Department also has a partnership with the REC Foundation to provide an Adapted Robotics program that allows special needs students to experience the excitement of competing in robotics at 13 Dallas ISD campuses.
The following teams from five Dallas ISD schools won awards during the 2022 VEX Robotics World Championships:
Middle School VEX Worlds
Alex Sanger Preparatory Robolution Z – Innovate Award
STAG in Pleasant Grove OwlBots – Teamwork 3rd Place
Elementary VEX Worlds
Margaret B. Henderson Robo Hornets – Energy Award
Margaret B. Henderson Queen Hornets – Energy Award
Casa View Elementary EagleBots 125 – Teamwork 3rd Place
Casa View Elementary LadyBots – Design Award and Teamwork 3rd Place
Winnetka Elementary Girl Power – Energy Award
Winnetka Elementary WildBots – Teamwork 3rd Place & Energy Award