Twenty years ago, Martha Mouret arrived in Texas from Mexico City, not knowing any English. In just one year, she learned English while attending Texas Tech University. She graduated with a triple major and went on to work as an assistant director in the Diversity and Community Engagement Department at Texas Tech.
"I was able to see firsthand the discrepancy between the numbers of minority students in K-12 and the number of students in higher education," she said. "Those numbers do not match. There are a lot of students, especially Hispanic students, who do not make it to college or drop out after the first year."
Mouret is so passionate about helping students have successful college careers that after a few years as a stay-at-home mom, she decided to make a career transition and teach reading language arts and world cultures at Jose "Joe" May Elementary School as a dual language instructor.
"Joe" May Elementary is a pre-K through sixth-grade neighborhood school in Dallas ISD. The school's mission is to produce college- and career-strong students in a safe and secure setting complete with hands-on learning and character building.
This is Mouret's second year of teaching, and despite starting her teaching career in the midst of the COVID-19 pandemic, she has gone above and beyond to make sure her sixth-grade students, as well as their parents, have the resources they need for college and career readiness.
Mouret has taken part in Dallas ISD's Family and Community Engagement program called the Home2Home Initiative, where she meets with her students' families over Zoom to help build connections and trust and to learn about her students' lives outside the classroom.
"This program has allowed me to talk to parents about their goals for their students and to find out that most of the families do not know how to support their students in their journey to college," Mouret said. "Most of the parents do not believe that attending college is possible for their students. I believe that providing the parents with information now will also make a difference in their kids' educational journey."
All of the staff at Joe May Elementary, including Mouret, are working hard to create a welcoming and supportive community for their students and families. "Our school truly fosters a sense of community where we find innovative ways to support our students while they're here while also giving them the knowledge and skills to still feel supported in the future. That's why creating a college awareness atmosphere is so important to me," Mouret shared.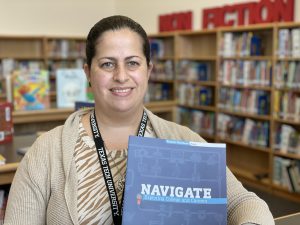 Mouret has started "College Fridays" in her classroom, where she and her students explore universities that students are curious about through presentations, virtual tours and more. While her students may only be in sixth grade, she knows the importance of familiarizing them with college and career opportunities at an early age.
"We talk about college expectations and I debunk many of the misconceptions students have about college," Mouret said. "They ask questions and learn about important terms that will help them in their journey to college. The earlier they become familiar with some terms, the better, especially becoming aware that there are different options after high school and how they can get there."
Many of her students are English Language Learners and will be the first in their families to attend college in the United States, and she wants her students to know: "If I can do it, they can do it, too." To learn more about Jose "Joe" May Elementary, visit www.dallasisd.org/joemay.