While she was usually a great student who had no problem with classes, Trinidad "Trini" Garza Early College High School senior Alexy Ramirez found herself falling behind after school went virtual because of the pandemic.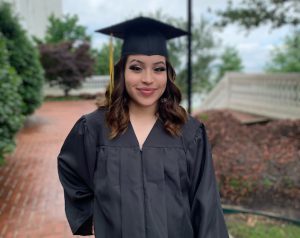 The constant distractions while learning from home–Netflix was one click away, after all, and there was always Instagram to scroll through–and working a job meant schoolwork kept getting pushed off. As the second semester got underway, Ramirez realized she was at risk of not being able to graduate.
"I was really disappointed with myself," Ramirez said. "My homework was piling up, and I wasn't achieving anything close to my potential. That's a bad feeling."
With the support of her teachers, counselor, and campus leaders, Ramirez got assistance through the Dallas ISD Reconnection Center, which helps students get back on track to graduate in time. She also received help and college guidance from Education is Freedom and was awarded a $300 scholarship.  Ramirez is now set to graduate with her associate degree and attend the University of Texas at Arlington, with the ultimate goal of becoming a teacher.
Ramirez has not been alone in getting extra support in a difficult senior year. In April, 66 percent of Dallas ISD seniors were on track to graduate. As of May 20, that number grew to 76 percent, and the ultimate goal is for 90 percent of district seniors to graduate on time.
Dallas ISD is using multiple strategies to meet this 90-percent graduation goal. In addition to students taking advantage of the Reconnection Centers and Evening Academy, individual graduation committees are monitoring seniors progress to ensure they get back on track, and district leaders are constantly monitoring data to help develop plans to increase the number on-track seniors.
Deputy Chief of School Leadership Dr. Mark Ramirez said Dallas ISD is committed to supporting seniors in any way possible so they can graduate on time.
"We know this has been a difficult year for many seniors who have faced challenges that were unimaginable just two years ago, " he said. "But we are proud to see more and more seniors getting back on track to graduate, and we want every student to know we are here to help them get across the finish line."