Considered one of the greatest sprinters of all-time, Roy "Robot" Martin prepped at Roosevelt High School under legendary head coach Earnest James.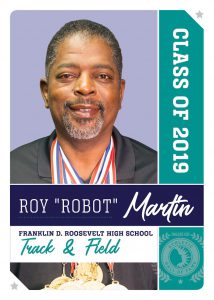 Martin burst on to the scene as a junior in 1984, as he was named Male Prep Athlete of the Year by Track & Field News and finished fourth in the 200 at the 1984 U.S. Olympic Trials. As a senior in 1985, Martin set the 200-meter high school national record for all competitions when he ran 20.13 at the state championship — a record that stood until 2016.
Martin's time is still the national record for high school-only competitions, according to Track & Field News, and it is the second-best high school time ever for all competitions. That same year, he also recorded the fastest prep time in the nation in the 100-meter dash at 10.18 seconds and anchored his high school's 4×100 meter and 4×400-meter relay teams to marks (40.28 in the 4×100 and 3:09.4 in the 4×400) that are among the fastest ever recorded in high school competition.
Upon his graduation from Roosevelt, Martin ran at SMU and helped the Mustangs win the 1986 NCAA Track & Field Championship as a freshman. Two years later, Martin competed in the 1988 Summer Olympics where he finished sixth in the 200. Upon his retirement from track & field, Martin remained active in the local track & field scene in Dallas as a coach on the high school and club levels. He was named to the Texas Track and Field Hall of Fame in 2013 and was recently named to the National High School Track & Field Hall of Fame.