The Margaret Hunt-Hill Bridge never tasted so good.
Well, at least that's possibly true of the miniature structure made out of gingerbread, marshmallows and icing by students at Dallas ISD's Multiple Career Magnet Center (MCMC). It's part of a baked and candy-bedazzled cityscape that includes a rendition of the school, a skyscraper and will eventually feature Big Tex and the Cotton Bowl.
Chef Stephen Drake, who leads the culinary cluster at the school, has used the gingerbread-building lesson when he taught culinary arts at Roosevelt, Lincoln and Townview Center. Students bake the gingerbread, help plan the structures and then assemble them. The finished product will not be eaten, though. After it is complete, students will destroy their handiwork, a process maybe more fun than baking the buildings.
For Drake's students, the expectations are high and his approach to them is really no different than he had for students at other schools. On Thursdays, his students cook, prepare and serve lunch at "The Bistro," catering mostly to teachers and staff at MCMC and surrounding campuses.
The students have made a positive impact on their teacher.
"I have been offered jobs at other schools," Drake said. "I'm not going anywhere."
The MCMC is designed to help prepare special-needs Dallas ISD high school students to thrive in careers. The school comprises Culinary Arts, Hospitality & Tourism, Dry Cleaning and Laundry, Business Technology, Childcare, Building Maintenance Technology and Construction Technology clusters. A Career Preparation program is designed for students who have earned enough credits to graduate but can use further career-skills development. Learn more about each cluster here.
Principal Kimberly Wheeler credits staff at the school for its success. She is in her first year as principal there, but many teachers have served at MCMC for many years.
"It's not just so they can get a job," Wheeler said of the students. "It's making sure they are well-rounded."
Teaching life skills is one aspect. Wheeler said that just recently, students were taken to get state ID cards so they can apply for jobs. Other times, staff takes students to the Social Security office for the same reason.
Timothy Brisco's father brought the dry cleaning and laundry component to the school years ago. When the elder Brisco passed away in 1993, Timothy was the ideal choice to continue the work because he had been trained in the business, but also trained how to teach.
Brisco said he has five students working professionally at area dry cleaners. He said he doesn't like to see the hard-workers leave the school, but looks forward to meeting the new students when they arrive.
Dry cleaning services are available there for all Dallas ISD employees, with the benefit of helping students practice the trade.
Hospitality & Tourism teacher Beverly Clemmons helps prepare students for working in front of and behind the scenes at hotels and restaurants. Some of her students earn Safe Food Handling certificates, which not only can help them land jobs, being certified can land them a higher salary than uncertified counterparts.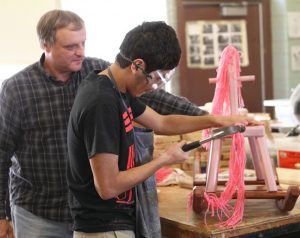 Terry Stotts teachings Construction Technology, which includes many different skills and projects, but one is well-known: wooden rocking horses. Students construct hundreds of the rocking horses each year, and give some of them to the Dallas Ronald McDonald House and others to nearly anyone who wants one.
Stotts' students also do finely detailed work, such as crafting wooden pen casings, which are beautiful and functional. The end result, though, is having students who thrive using their hands to build.
Staff members take great pride in their students and their daily work. More than one referred to the school as "The best-kept secret in Dallas ISD." Whether the secret gets out or not, MCMC remains a place that is dedicated to fostering the talents of students who are bound to succeed in their careers.