As someone who grew up without much money, Dallas ISD Police Officer Omar Sepulveda knows what it's like to be a kid in a family that depends on donations for Christmas presents.
Sepulveda, who now serves as an officer at Pinkston High School, has a simple motto: "Every kid deserves a present on Christmas." Sepulveda is in his fourth year of hosting a toy drive to make his mission come true.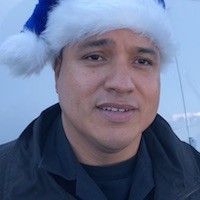 "When I started this toy drive four Christmases ago, I thought, 'I'm not rich, but I think I can make a difference,'" Sepulveda said. "I'm trying to give back to the community that provided for me when I was growing up."
The toy drive has grown every year. Sepulveda and fellow officers spent part of their Monday using donations to buy more than $800 in Christmas presents from Walmart. He is also hosting an event starting at noon on Saturday, Dec. 8, at Pinkston High School to collect toys.
Sepulveda will donate the toys to students with special needs at Pinkston High School. Santa will be on hand to help give out the toys and take pictures the Pinkston students.
Sepulveda will then give out the other toys to families at the Buckner Center for Humanitarian Aid.
"I tell the students who have helped collect toys and make this successful: It doesn't matter if it's a $2 toy or $20 toy, it just matters that it comes from the heart," Sepulveda said. "It's a special feeling to know that you've made a difference in some way."