Mata parents who attend open lunch this year will find a new addition in the cafeteria: Mata teachers.
For the last three years, most teachers have eaten lunch separately during their students' 30-minute lunch period, but this year all teachers are joining their classes at cafeteria tables as an extension of Montessori Grace and Courtesy lessons.
These are "simply the common human pleasantries we often take for granted, assuming that children will acquire them as they grow," says Mata Montessori instructional coach John Hutcheson, known around Mata as Mr. John. "[Maria] Montessori understood that unless these behaviors are appreciated, taught and modeled, they are unlikely to emerge on their own."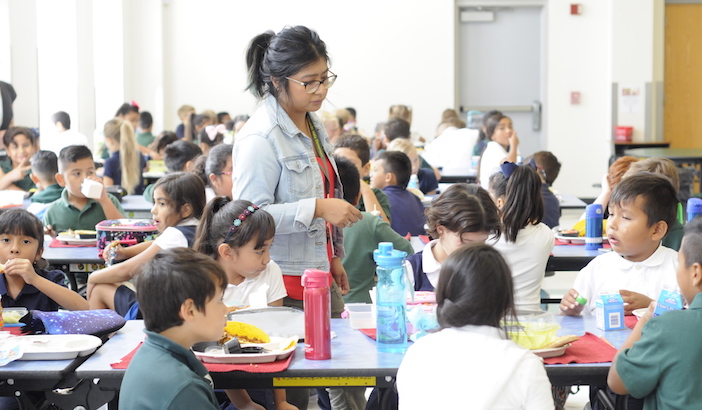 During lunchtime, Mata teachers reiterate table manners with their students — chewing with their mouths closed, not talking with food in their mouths, making eye contact, and saying please, thank you or pass the napkins. Teachers instruct students to speak in an indoor, conversational tone.
"When given the sound-amplifying acoustics of a large, active dining space with over a hundred students entering and leaving every 30 minutes," Mr. John says, "the teacher presence has helped ensure an enjoyable dining experience for all."
There isn't a set curriculum of Grace and Courtesy lessons, Mr. John says, so practices will vary from classroom to classroom. Lower Elementary teacher Ms. Chantille Diaz, new to Mata this year but not to Montessori, assigns students to carry a basket of placemats and napkins to the cafeteria and then "set the table." The spatial awareness the placemats provide help them "keep better track of their food," she says.
Social skills are at the heart of the lunchtime instruction, Ms. Diaz says.
"This age is a really big leap for social skills and finding their place," she says.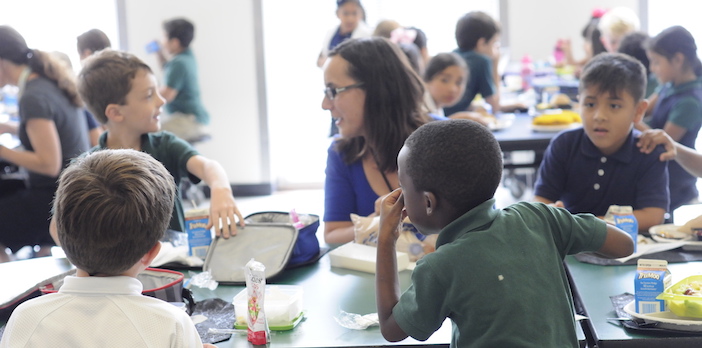 Ms. Diaz gives her students the freedom to choose their seats, and the girls in her class naturally gravitate to one table, with the boys gravitating to another. Conversely, Lower Elementary Dual Language teacher Ms. Veronica Sias, now in her fourth year teaching at Mata, arranges seating for her students each day to "make sure everybody finds a new friend" and to "separate cliques."
"Students don't necessarily need to feel left out if they don't have someone to eat with," Sias says.
Ms. Sias reminds her students that the way they eat lunch should reflect dining in a restaurant, with the aim of enjoying food and conversation without disrupting people around you. For the last five minutes of lunch, her students dine in silence, giving everyone a chance to finish their food.
Then Ms. Sias' students clear the tables, shake any crumbs from the placemats into the trash, and roll up their placemats to put back into the basket. In Ms. Diaz' class, one student is assigned to collect the placemats while others sweep and wipe down the tables.
The students then head outside for recess while the teachers eat lunch or, if they eat with their students, they can use the time for additional planning. Last year, most did the opposite — eating lunch separately from their students then joining them for recess.
The change "provide[s]a greater consistency" and "extend[s]their nurturing into the cafeteria," Mr. John says. "As Mata continued to expand and age up each year, it became increasingly apparent that the children would benefit from the same level of guidance they were receiving in their classrooms."
When parents visit for open lunch, they are encouraged to observe Grace and Courtesy being practiced by Mata students and teachers, as well as to participate themselves by following the guidelines sent home in last Tuesday's folder:
Enjoy eating with your child at the three round yellow tables in the center of the cafeteria.
Please do not invite other children to join you. Those who are not invited feel excluded.
Please arrive and depart according to your child's lunch schedule. Limited space prevents waiting at the tables.
To protect children against allergic reactions, we ask that food not be shared outside your family.
To ensure that all parents have the opportunity to eat with their children, please choose either Tuesday or Thursday (not both) to visit.
Please allow your child to convey gratitude for your visit by cleaning up the table.