Fifty-five Dallas ISD teachers and instructional coaches finished off a year of leadership development by successfully presenting on a real-world scenario that a campus leader could face.
The Future Campus Leaders (FCL) program was designed to provide a development opportunity for campus employees who have a desire to serve in a formal campus administrator role as a part of their career path.
Throughout this year, participants received targeted, timely, and personalized professional learning experiences focused on the skills needed to be a successful future campus administrator in Dallas ISD. Session topics included:
School Climate and Culture
Six Exceptional Systems for Successful Campuses
Effective School Communication
Recruiting, Retaining, Developing and Leading Highly Effective Teams
Creating an Innovative School
Sessions were presented by current Dallas ISD principals and School Leadership Executive Director Joe Miniscalco.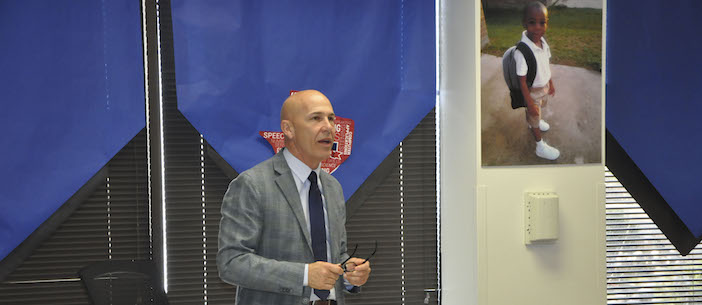 The program culminated with the FCL Final Team Presentation Events on April 24–25. The presentations saw teams complete solutions from the point of view of an acting principal to different detailed scenarios.
"Watching and evaluating the final presentations of learning by members of the Future Campus Leaders group was an uplifting experience," Miniscalco said. "The participants clearly embraced the project with vigor and presented enlightening, meaningful and alternative solutions to challenges that campus administrators face regularly. The quality of the presentations affirms the there are exceptional teachers in Dallas ISD and it is gratifying to know that campus principals are building leadership capacity in our ranks for the future. It is a great time to be in the Dallas ISD!"