Kiest Elementary hosted a community garden and school spruce up on Oct. 22.
The school was awarded a Lowe's Toolbox for Education Grant for $2,000 to implement its Birds, Butterflies, Bees and Trees Garden.
Teachers, students and volunteers installed a butterfly-shaped garden addition to the existing vegetable garden. The butterfly garden will grow plants that attract butterflies. Volunteers also planted trees, shrubs, and other plants that enhance the ecosystems to sustain butterflies, birds, and bees.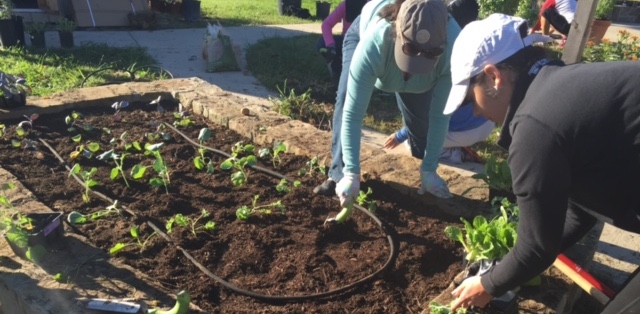 Volunteers sowed wildflower seeds and prepped the vegetable garden beds. They will install five birdfeeders and birdhouses at a later date.
The community came together to support the efforts. Tenorio Printing Company, a local printer started by a Bryan Adams High School alum, donated the labor to print 20 t-shirts for the install day. The printing company also printed the design on the bird-feeder.
Paul Terry, a local carpenter and parent, was there to "build" the components for the new garden. Ruibal's Texas Plants donated 50 mini-pumpkins for the children to decorate. Pepsi donated water for the volunteers.
About six adults from Eastfield College also attended to help prep the new garden.