The Texas Association of School Business Officials (TASBO) honored Dallas ISD Chief Internal Auditor Mike Singleton as a 2016 TASBO Commitment to Excellence Finalist.
As part of the honor, TASBO donated $1,000 to a program of Singleton's choice.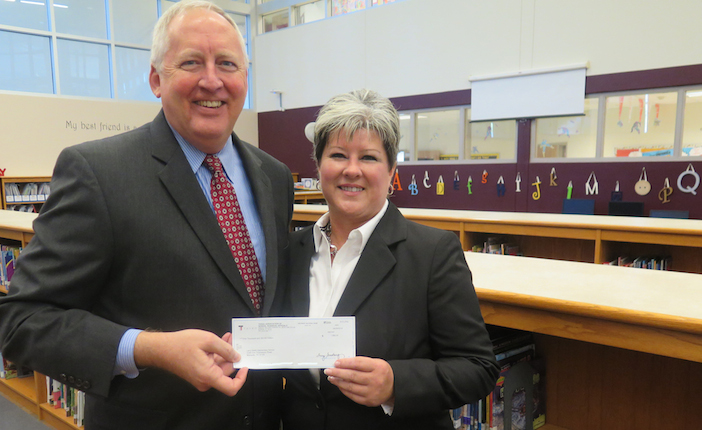 Singleton, in turn, chose Larry G. Smith Elementary School's Roaring Readers program as the recipient of the $1,000 donation. Singleton presented the check to Smith Elementary Principal Lora Morris on Tuesday, Aug. 30.
"This goes a long way toward helping promote literacy in our community," Morris said.
Smith Elementary School donated 2,300 books to students last year. The school hosts a family literacy night that provides books to everyone who walks through the door. The donation will help provide those books this year.
"When I received the TASBO award, I couldn't think of a better way to use the donation than toward helping kids read," Singleton said.
At its Annual Conference in March, TABO recognized Singleton as one of three finalists for the TASBO Commitment to Excellence Award. Each year, TASBO selects an outstanding TASBO member, who demonstrates consistent leadership within the organization and their profession.
A member of TASBO since 1988, Singleton has served several leadership positions and was the TASBO Board President from 2004 through 2005. He considers his greatest contribution to be the development of the TASBO vision and mission. He and the Board of Directors worked together to develop a direction that would capture the TASBO essence.
Mike's dedication to the pursuit of excellence has resulted in the highest recognition from ASBO and GFOA for improvement within the districts he worked. It was an expectation that his staff be TASBO members. As a result, six of his former staff members have lead financial operations in Texas School Districts.
Last year's Commitment to Excellence Winner, Mr. Steve West sums up his nomination; "I place great trust in his abilities and have relied upon him in numerous situations to vet my concerns regarding school finance issues."
Along with the Commitment to Excellence Award Recipient Frankie Jackson from Cypress-Fairbanks ISD, Singleton and Midland ISD's David Garcia were honored at TASBO's Annual Conference Awards Luncheon on March 3, 2016 in Dallas. More than 1,000 people attended the luncheon, sponsored by AXA.
"In appreciation of our partnership with TASBO we are committing $5,000 to this year's award recipients. We will donate $3,000 to the 1st place recipient's home district and an additional $1,000 each to the remaining finalists," said Matthew Foxhall, Regional Senior Vice President for AXA, who sponsors the award.