Woodrow Wilson High School's librarian, Valerie Tagoe, is pushing for library excellence.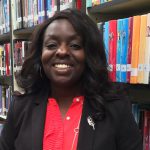 Tagoe was awarded the S. Janice Key Continuing Education Award from the Texas Woman's University School of Library and Information Science this past April. The $500 award encourages professionals to continue education and development. The award helped Tagoe attend two state and national level librarian conferences as a presenter. She also had the pleasure of being selected to attend the first ever Texas Library Association Executive Leadership Program in Austin this August.
Participants were selected to attend the Leadership Program through an application process that centered on a focus project proposal. Tagoe's focus project presented a scope and sequence for elementary librarians to serve pre-K students, which she hopes to be able to apply if the district expands pre-K to all elementary campuses. During the five-day conference, Tagoe had the opportunity to learn about leadership in the library realm at various levels.
"I think the experience will help me create better proposals, see who I can partner with, secure funding, and be able to bring more programs to my campus," Tagoe said.
She hopes to be able to create a scholarship and citizenship information workshop for students to become informed about scholarships that are offered to continue their education.
Tagoe has been with Dallas ISD for 13 years. She serves on the TAYSHAS Committee and as the Vice President of the Dallas Association of School Librarians.