Volunteers and partner groups annually contribute thousands of hours of time and numerous in-kind donations and financial resources to help Dallas ISD schools extend learning experiences for students.
This year alone, volunteers have logged more than 265,444 volunteer hours, which is equals 15,926,640 minutes. One way the district recognizes their contributions each year is to invite campus staff to nominate those volunteers and partners they feel go above and beyond in their efforts to make a difference on their campus. In this 47th year of honoring those who donate their time, talent, and resources to Dallas ISD, the district received over 170 nominations.
These are the 2015–16 Volunteer and Partner Recognition and Awards recipients that were honored at a special event on April 21.
Superintendent's Award – KROGER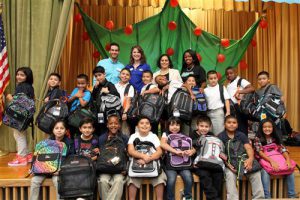 Kroger's signature donation to our district is an annual program providing back to school supplies (formerly known as Stuff the Bus, now titled Backpack Boosters). Kroger has supported Dallas ISD for more than ten years, and during the summer of 2015 more than 50 Dallas ISD schools started the school off right with free backpacks and school supplies valued at a total of more than $85,000.  In addition, Kroger helps schools through Kroger Community Rewards, donations of refreshments, and filling other needs.
The Kroger Southwest Division operates 213 stores in Texas and Louisiana and is part of one of the nation¹s largest retail grocery chains. Kroger is dedicated to making a difference in the communities it serves by supporting hunger relief, education, health and wellness, and diversity programs. Resulting from the retailer's philanthropic commitment, Forbes magazine lists Kroger as the most generous company in America.
Emmett J. Conrad Extra Mile Award – THE EXCHANGE CLUB OF EAST DALLAS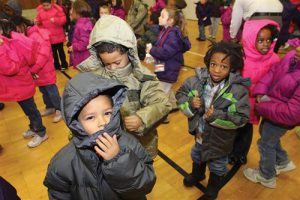 The Exchange Club has supported 12 to 14 schools in the east Dallas area for more than 30 years. The Exchange Club of East Dallas is a service organization founded nearly a century ago. Their mission statement is to pursue programs that benefit public school kids in need in our East Dallas community. The organization has distributed more than 400,000 books to students in the Woodrow feeder pattern (and several additional Dallas ISD schools in East Dallas), provides Scholastic magazine to thousands of students, and each fall donates school supplies to help students start off the school year. Each winter, for the past 17 years, the organization has donated hundreds of warm coats to students in need. They began a mentoring program several years ago, and a number of members volunteer to read with students as well. Recently, members became certified screeners to support school nurses with vision testing.
Leading the Charge Award – PAT & EMMITT SMITH CHARITIES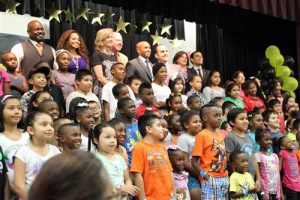 For years Pat & Emmitt Smith have led a citywide mentoring program called Team 22. Recently they have brought us hundreds of thousands of dollars worth of athletic gear from Under Armour, serving four high schools to date. They have annually provided uniforms to support one Dallas ISD campus per year, traditionally at some of our highest need campuses. This year, in partnership with Belk, they increased their generosity to include back-to-school celebration events outfitting uniforms for all students at two schools in the ACE program (Billy Earl Dade MS and Roger Q. Mills ES). They also recruited additional partners such as the Cal Ripken Sr. Foundation's Uncommon Athlete program to provide their character-leadership program to 12 secondary schools. In addition, PESC presented a health-based partnership with DECA Dental, providing free dental care to select students enrolled at GHW Bush Elementary School this year.
Outstanding Business Partner – SOLAR TURBINE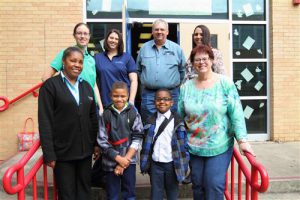 Stacia Ellis and her colleagues at Solar Turbine have made a real difference at Umphrey Lee Elementary School. As active members of the site-based decision-making team, they learned about school needs and took action to support them. Attendance improved to 98.4% through the donation of bicycles and gift cards as incentives. A once unsightly, unused courtyard is now a popular and well-used outdoor classroom. On parent conference nights, Solar Turbine provides dinner for teachers. 85 students in need received new coats this year, and family support at holidays. As a result of this partnership, academic achievement is improving and both student and staff morale as well.
Outstanding Organization Partner – WITHERS DADS CLUB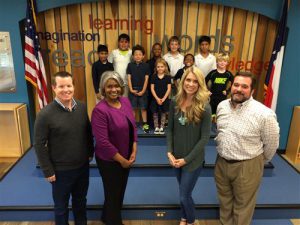 For many years, Withers Dads Club has been an integral part of Withers Elementary School's success. Travis Blakeslee and the Withers Dads are amazing, according to Volunteer Coordinator Linda Cano and Principal Connie Wallace. With donations totaling more than $100,000, they have provided for field trips and renovated outdoor spaces, classrooms, and the main office and the teachers lounge. Each year they hold bike safety fairs, sponsor soccer games to build school-community spirit and lead garden work days. Their efforts go beyond the learning environment into academics as well, as they provide volunteers to tutor, read with students and support field trips.
Outstanding Faith-Based Partner – CENTER FOR SPIRITUAL LIVING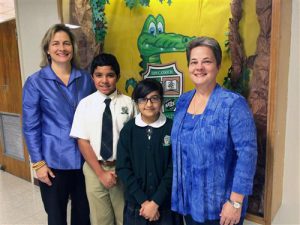 Center for Spiritual Living Dallas is described as diverse, radically inclusive, "not your-usual church." And for more than ten years, Rev. Karen Fry and the Center for Spiritual Living have partnered with Gooch Elementary School, supporting a positive community culture at the school. This year alone they have donated hundreds of personalized school uniforms, provided for families at-risk, and assisted with other school needs. Principal Karen Ashmore and Counselor Valerie Smith credit this partnership as an integral part of increased academic progress at Gooch Elementary School.
Volunteer Impact Award for Student Support – TI ROBOTICS CLUB MENTORS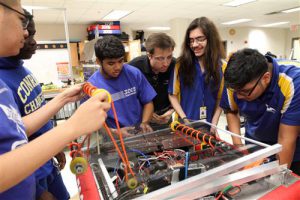 The relationship with TI and Conrad's Robotics Team began 3 years ago, and in that time the Robotics team has developed from a struggling after school club to being the first Dallas ISD US FIRST Robotics team to qualify for the US FIRST World Championships. Mrs. Jordan, Conrad's Lead Robotics' Sponsor, says that "without the support of the TI engineers that volunteer here, we would not be able to provide the outside of school experiences in the STEM areas that our kids are exposed to." The dedicated TI mentors not only to teach students about robotics, but also help them academically and on a personal level. They consistently extend their work days by a minimum of three hours to spend time with the club at least four days a week. They play a key role in helping many struggling students stay motivated in school in addition to helping some see a clearer vision of a future in engineering.

Volunteer Impact Award for Classroom Support – CECILIA PETITT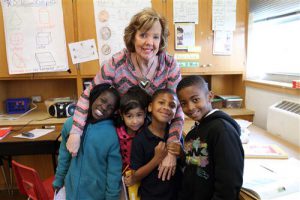 Ms. Cecilia Petitt is a first year volunteer at CF Carr and has become an invaluable resource for the first grade team. During her 6 hour block of time on campus, she delivers lessons including phonics, routines for Daily 5, Character Counts, and small group instruction. Ms. Petitt creatively uses puppets to bring reading to life for students. Her positive spirit and generosity have helped to strengthen relationships between 1st-grade teachers and has increased retention of new teachers. Due to the support of volunteers like Ms. Petitt 1st-grade math scores at CF Carr were among some of the highest in the district with a 93% pass rate.
Volunteer Impact Award for School Support – SHEILA SPOTSWOOD
Ms. Spotswood has been volunteering at Anne Frank Elementary for the last five years as the master gardener in Anne Frank's Learning Garden that contains plots for families to grow their own vegetables, a gazebo, and outside classroom learning space. Her dedication is selfless–she can be found in the garden on the weekends, all through summer, and over spring break. In the summer of 2015 Ms. Spotswood refreshed the garden by retiling, stripping, and painting the large gazebo (which seats 30 people!), and bringing in over 500 pounds of mulch and d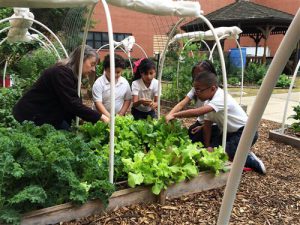 irt. In the summer alone she worked over 300 hours! Ms. Spotswood helps teach 8-10 TEKS-aligned classes weekly outside in the Learning Garden. The Learning Garden has helped Anne Frank flourish in other ways as well including increasing parental and community volunteerism by 55%, and bringing in over $26,000 worth of donations and grants!