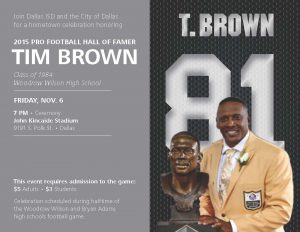 When retired NFL great, Heisman Trophy winner and NFL Hall of Famer Tim Brown is formally recognized Friday, Nov. 6, lots of local fans will share the pride of his storied accomplishments. Many of those in the stands at the game will doubtless be alums of Woodrow Wilson High School, which is where Brown got his start on the school's varsity football team.
The first and only Dallas ISD grad to achieve hall of fame success in football, Brown began his career on a team that won only four games in his three years on varsity. From humble beginnings, the veteran of a 17-year career with the Los Angeles/Oakland Raiders has risen to legendary heights.
Capping his record of national awards and recognition, on Nov. 6, Brown will bask in the limelight of his hometown fans as he is honored on Tim Brown Day in the city of Dallas as proclaimed by Mayor Mike Rawlings. Fans are invited to join Rawlings and Dallas ISD Superintendent Michael Hinojosa at the festivities that will feature a special halftime recognition of Brown at Woodrow's game with fierce rival Bryan Adams. Kickoff of the Wildcats vs. Cougars contest is set for 7 p.m. at John Kincaide stadium in the Jesse Owens Memorial Complex at 9191 S. Polk St. Tickets to the game are required and can be purchased in advance from either school, the district's Athletics office at 2500 S. Ervay St., or at the gate. For ticket information, contact Athletics at (972) 749-2450 or NotifyAthletics@Dallasisd.org.