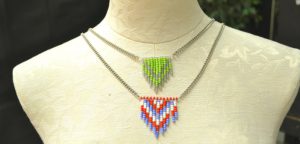 Skyline High School sophomore Emily Raney is moving up to the big leagues. The young entrepreneur who designs and crafts handmade jewelry using metal and beads is on her way to New York City for the National Youth Entrepreneurship Challenge sponsored by the Network for Teaching Entrepreneurship.
The sole Dallas ISD representative, Raney will pitch the plans for her business, Alloy Interp., before a panel of judges in the national competition featuring 35 other young entrepreneurs from across the U.S. The goal: to win a $25,000 scholarship to fund her business or education.
The Skyline family is behind Emily all the way. Faculty and students are supporting Raney's entry in the NFTE elevator pitch challenge, a segment of the NFTE competition to be decided by online public votes. A win could add $2,500 to Raney's scholarship nest egg.
The school is asking for the community's support for the hometown favorite. People can vote by logging on to http://www.nfte.com/elevator-pitch-challenge-2015-0. There you can view Raney's elevator pitch video, which is also posted above, and cast a ballot in her favor. The goal is to recruit 5,000-plus votes by Oct. 3.
Developing a viable business plan is a heavy lift for any business startup, let alone one headed by a high school sophomore. Raney's business plan includes a detailed start-up budget, demographics and characteristics of her target consumer. The business plan also includes sales projections, comparisons with competitors, and a social media and marketing plan.
"A lot of jewelry just looks pretty and states that you have a lot of money," she said. "My jewelry isn't like that. You can express yourself through my jewelry, which is inexpensive, creative, fun and meaningful."
Jacqueline Walker, one of Raney's teachers in Skyline's Fashion Cluster, said Raney excels in the classroom, enjoys the respect and admiration of her peers, and is known for her humor and willingness to help others.
"I selected Emily to participate in the competition," Walker said. "She is thorough with her work, and she has a solid business concept that she has actually put into action prior to creating a business plan."
Walker said Raney has used her creative talents to produce art and jewelry from various media for several years. According to her business plan, Raney's mission is to spread the love of art and jewelry by enabling people to show their personalities through accessories.