Break out the (virtual) cupcakes: the Hub, which is the district's online newsroom, today celebrates its one-year anniversary.
For those who are curious, here is what the traffic to the Hub looked like in its first year: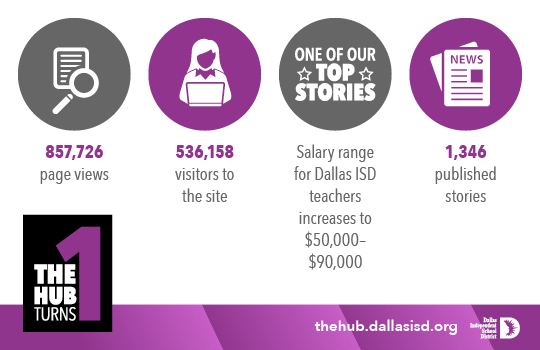 The Hub aims to spotlight the great things happening inside the district's 226 schools. To do that, the Hub needs help in finding out about the great work teachers, students, and school leadership are doing at every campus.
If you know of something happening in the district that deserves attention, send an email to thehub@dallasisd.org. Also, keep a look out for a redesign of the Hub coming in early November.
And here, in no particular order, are 10 of our favorite stories that ran on the Hub this past year.
Good for gold: Wrestler overcomes obstacles to win first women's title
Students at Lincoln High School get a professional welcome back to school
A 'Quinn'tessential musician and Dallas ISD graduate
PAL program connects refugees with older Dallas ISD counterparts
Students share their favorite part about preK
Career certifications skyrocket at Dallas ISD
Salary range for Dallas ISD teachers increases to $50,000–$90,0000
Student wins MLK Oratory Competition with a call to end violence
Cary Middle School principal shows off dance moves
District thanks the Maven of Meals, Dora Rivas