Dallas ISD teachers will have the ability to earn a higher salary at a faster rate under the district's new salary schedule.
In the 2015–16 school year, the starting base salary for new Dallas ISD teachers will be $50,000. For reference, new teachers previously had a starting salary of $47,382.
Meanwhile, newly hired teachers with more than two years of teaching experience will have the ability to earn a base salary of $58,000, with the capacity in the coming years to earn up to $90,000. When excluding any cost of living increase, the base salary under the previous salary schedule for a teacher with two years of teaching experience was $47,382.
The new salary schedule is a part of the Teacher Excellence Initiative (TEI), which aims to identify and reward effective teachers. District leaders briefed principals on the updated salary schedule at an April 15 meeting.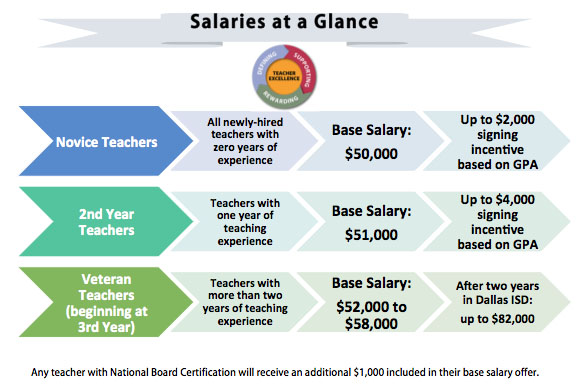 TEI Director Lindsay Coshatt said the starting salary and potential maximum salary under TEI are notably higher than they were under the traditional step salary schedule. TEI eliminates the traditional teacher salary schedule and replaces it with a compensation system based on nine effectiveness levels.
"Dallas ISD's strategic compensation plan gives teachers, especially those who are highly effective, the opportunity to significantly increase their salaries in shorter spans of time," Coshatt said.
Below is a graphic showing the updated salary schedule and corresponding effectiveness level.

For those interested in becoming a Dallas ISD teacher, the next district job fair is April 25. You can register here.
For more information on the new salary schedule under TEI, click here.