On Feb. 21, history was being made for one North Dallas High School student.
In the shadows of the record breaking achievement, in which Kymberlynn Jackson won the first Dallas ISD UIL girls wrestling title, the daunting reality that Jackson faces daily made that moment all the more satisfying.
Unlike most of her peers, Jackson can't place her state medallion in her room or hang it on her wall with the other countless accolades she's won this year: the first Dallas ISD girls wrestling state champion is homeless.
Without a place to call home, Jackson chooses to wear the symbols of her success around her neck. It's a small reminder of where she's been and where she plans to go.
"I used to let my anger get the best of me, and I knew I needed to do better," Jackson said.
"Life for me and my family was hard, especially last year." Jackson added. "But I know being active in school is what I needed to jumpstart my thinking in a positive way."
The start of a new school year brought about the kind of change Jackson needed.
North Dallas High Principal Dinnah Escanilla had been eyeing Jackson since her freshmen year due to many behavior and conduct concerns, including fighting. Still, Escanilla saw past her outward displays and pulled Jackson aside earlier this fall with a proposal.
"I want you to be an ambassador in this class to use your leadership and help others," Escanilla told her at the time. "You have the potential to take more of a leadership role in here and, if you do, I know you'll go far."
Prior to their talk, Jackson admitted she had never heard of the word "ambassador." Hesitant to accept Escanilla's plea, she finally decided to take a step toward a different path. Jackson ultimately agreed and became ambassador to her second period Algebra class.
School administrators say Jackson's math class, which includes students who were, at times, reported for disruptive behavior, has seen a difference in overall class productivity. Escanilla says it's mainly due to the constant steering by Jackson to lead her peers in the right direction.
"As a class ambassador, Kym has made tremendous strides to help maintain a positive learning environment for both she and her classmates," Escanilla said. "Even her teacher said the class' conduct is improving."
No longer is Jackson misbehaving and running through the halls, bad-mouthing administrators or performing poorly in class.
Filled with excitement, Principal Escanilla couldn't resist explaining Jackson's grades are not only up, but she made the A-honor roll the entire fall semester.
"She has an innate ability to push herself forward, and that's the attitude of a leader I wanted to push out," Escanilla said.
A diamond in the rough
During the UIL state championship, Feb. 21, Jackson won every match by pin in the 5A girls 215-pound division. She pinned her final opponent in just 2:50.
This was Jackson's first year wrestling. Even as a newcomer, her road to victory on the mat was a reminder that she could accomplish what others believed she could.
Recruited in early August by Coach Cortney Billingsley, North Dallas' girls wrestling coach, he recalls the first moment he spotted Jackson walking down one of the campus' busy halls.
"I noticed this girl who looked athletically fit, walking around with a big smile on her face," Billingsley said. "And I remember saying to myself, 'I'm gonna help this kid.'"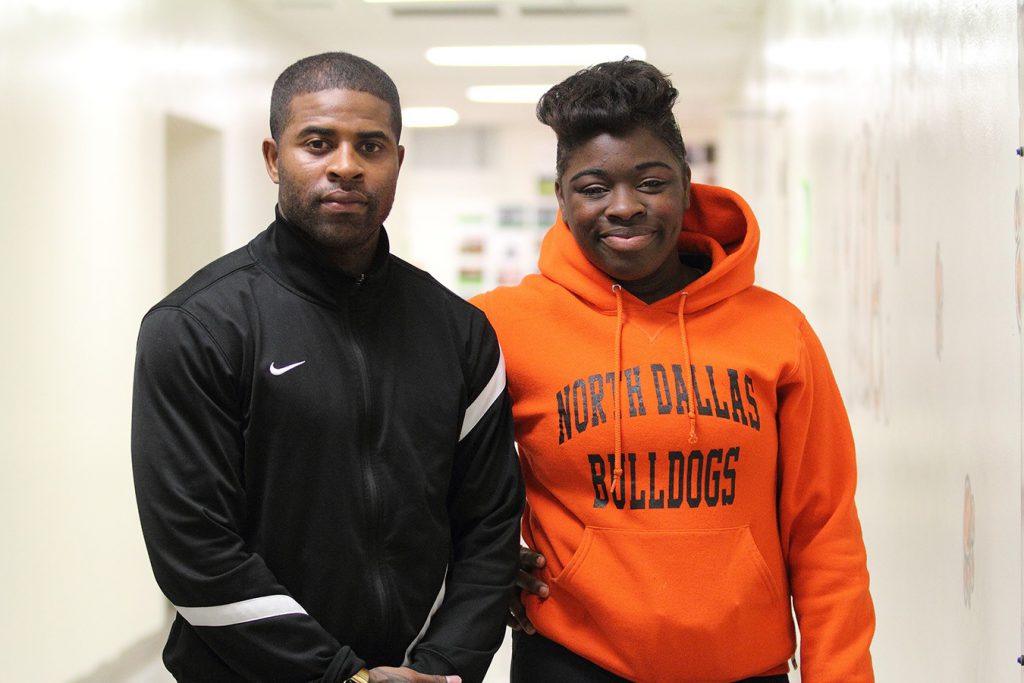 Not knowing the state of her home life or backstory, as Jackson was living in a shelter and struggling to keep good grades, Billingsley was looking to add to his powerhouse team of state hopefuls. He asked if she would join the girls wrestling team.
But he didn't stop at just a request. Billingsley had a discussion with Jackson's mother, asking for a chance to work with her daughter. He said his goal was to help pull her away from the negative by using wrestling as a mechanism to fuel success.
Jackson agreed to join and immediately immersed herself in the sport.
"We gave all of our girls a DVD to watch of different pins, strategies and techniques to take home and report back what they had learned," Billingsley said. "Kym would come back asking for more and, soon after, she started doing moves we hadn't even done."
That's when Billingsley knew Jackson was truly special.
The 5-foot-10-inch, 201-pound athlete took on her first match against one of Skyline High School's female wrestlers and lost her first of only two matches this season.
The defeat motivated Jackson to push harder. Her dedication was revealed in a hand-written note to Coach Billingsley, who was considering pulling back in her workout sessions.
"Coach, don't cut back! If I want to win state, I have to do more," Jackson penned.
Billingsley said that what made Jackson so special in her matches was how she capitalized on her opponent's mistakes.
As she recounted her wrestling progress and accomplishments, Jackson struggled to hold back tears.
"My ultimate goal is to set an example for my two sisters," Jackson said. "I know they are watching me and I have to lead by example."
Jackson now serves as co-captain of the team.
Breaking the cycle 
"I thought folk were against me," Jackson recalls of the time she was involved in fights.
But times are different. Jackson is a state champion and the first girls state wrestling winner for Dallas ISD. However, there was a time she described when life was not so good. Pent up anger and aggression drove her to surround herself with friends who also liked to stir conflict. However, she knew that behavior could not last.
"It's like, one day the light bulb clicked and I knew I had to do something to better myself," Jackson said.
Since her transition to become a student leader, Jackson's vision has expanded to focus more on long-term goals. Because of wrestling, her dream to attend college seems more attainable.
Jackson is a product of a single-parent home and would be the first in her immediate family to go to college. She plans to pursue a music degree.
After Jackson joined the wrestling team, she began researching top women's wrestling programs around the country. Wayland Baptist University and Cumberland University are two programs she is interested in.
"This is what the Dallas ISD student looks like," Escanilla said.
School leadership set a goal to have all kids college- and career-ready upon graduation by 2020. Though many students face personal hardships similar to Jackson, Escanilla says it's not impossible for anyone to achieve.
"Like a budding flower, we are witnessing the simplistic beauty of her growth as each petal falls into full bloom," Escanilla said. "Kym is just beginning to blossom and I can't wait to see how far her petals will stretch."