As Scott Davison, an English teacher at Booker T. Washington High School for the Performing and Visual Arts, is getting ready to start his 50th year as a teacher next fall, he looks back at the wealth of knowledge, experiences and fascinating stories he has amassed and recalls education wasn't always his first choice.
In fact, he said he "sort of stumbled into it."
Growing up in Oak Cliff, he dove into the arts at an early age. He became a child actor at 6, but he never limited himself to one discipline, also pursuing dancing, singing, playing numerous musical instruments and athletics. By the time he was 16, he enrolled at the University of Dallas to pursue a major in visual art. By the time he was 20, he accepted his first teaching job at the Center for Writers at the University of Southern Mississippi. There, he met the students who sparked his passion for teaching for the first time.
"They would go through the motions, but they had no intellectual curiosity, and their imaginations had just been crushed," Davison said. "I started asking myself, 'Where is this process of not being inquisitive starting? Where can I make a difference?' It seemed to me that high school was where it happened most profoundly. That's also where I could turn things around before it was too late."
So when Davison received a letter from Paul Baker, the founding director of Dallas' arts magnet, asking him to join the team and to spread the school's philosophy of "unique, creative imagination," he left behind a scholarship to the renowned Bread Loaf Writers' Conference and accepted. This was back in the late '70s, and Davison still recalls helping select the school's Pegasus mascot and painstakingly creating the first yearbook in his free time with the help of a typewriter, a mimeograph machine and a few student volunteers.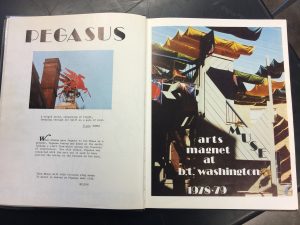 "We would type every student's name and then have to hand-cut them out," he said. "We then had to take every photo and physically paste it on the page. If you made a mistake, you made a mistake, and you'd have to cross it out or redo it. It was a lot of work."
He continued to make a difference at the school for over a decade, teaching a variety of subjects from creative writing to speech and supporting philosophy clubs and student publications. He also co-wrote two original musicals that had their world premieres at the Arts Magnet in its early days. Eventually, he decided to move to Los Angeles, California, to work in Hollywood as a director and playwright, ghost writer and teacher—first at an arts school in Santa Monica and then at an Orthodox Jewish school near Westwood.
Some of his students there included Emily and Zooey Deschanel, Kate Hudson and Max Brooks, the bestselling author of "World War Z." During parent conferences, he would meet with celebrities like Goldie Hawn, Kurt Russell, Jackson Browne, Mel Brooks and Anne Bancroft. Davison said it was an "interesting place," but family brought him back home to Dallas in 1998 and to David W. Carter High School, where he worked for a year until a position opened up the following year at the arts magnet. He has been there ever since.
While he may not meet with as many celebrities as a teacher in Dallas ISD, Davison's passion for transforming students' lives has kept him coming back to the classroom year after year.
"I could have had multiple careers, but teaching always seemed to me to be the most important," Davison said. "We take kids of every background and level, and in four years, we transform their lives."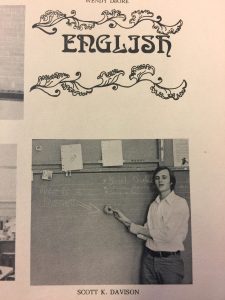 Staying power
Davison has experienced countless ups and downs in his 49 years of teaching, and he identified two support systems that have helped him through the hard times. The first is staying connected with his former students and getting to hear how his teaching changed their lives. Not only does he run two alumni Facebook pages where he posts updates on their achievements, but he has also kept up with former students like Grammy-winning blues and soul singer Erykah Badu, Edie Brickell and others.
The second is his dedication to revitalizing himself every summer. He does this by traveling and engaging in creative projects like translating Italian and Swedish poetry or writing, which all help him find renewal and motivation for the upcoming school year.
"Every class is a new challenge with new students," he said. "Just because I've done it or taught something before, this is their first experience, so it has to be fresh and new and exciting."
At the end of the day, fueling students' creativity is what propels Davison forward. He is passionate about bringing his love of the arts to students and finding innovative ways to get them interested in poetry, literature and critical thinking. While teaching has not always been easy for Davison, it has been fulfilling.
"When I was a kid, I went to Catholic school for a couple years, and I have a really strong sense of service," he said. "Getting into high school, I felt like that was where I could make a real difference and keep students' lights shining. I could have retired a number of years ago, but I don't want to lose any time with the students."