Robert Matthew Bell III is the senior Teen School Board representative for Innovation, Design, Entrepreneurship Academy (IDEA) at James W. Fannin. Now in his second year on the board, he was recently inducted into the National Honor Society, is also on the school's National Academy Foundation advisory board and has been on the student council since his freshman year, when he served as president.
A former charter school student, Robert chose to attend Dallas ISD's IDEA for high school and says, "It was one of the better decisions I've made. I've been able to meet people in the fields I'm interested in going into – marketing and real estate. And I've been able to participate in a lot of activities at my school. It's helped me to step out of my comfort zone. Even my thought patterns have changed since coming to IDEA."
He shares that one of the challenges he faces is being stereotyped because of his physical appearance and zip code. Because he is 6'3", some people's first impression is that he is an athlete and not a scholar.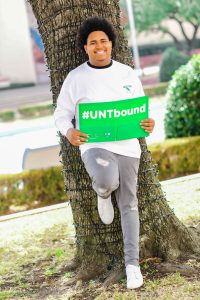 "I've never wanted to be seen as a project or stereotype. Yes, I'm a young African American man from a single-family home and I live in a predominantly Black, middle-class neighborhood. Because of my physical appearance, I'm often asked if I play football or basketball. The answer is no. I chose to focus on academics and develop a more holistic life view. I want to shatter the stereotype that all tall Black men must play sports. I want to rewrite that narrative so when people see me, instead of an athlete, they see an intelligent African American man destined for excellence."
An IDEA ambassador and member of the school's recruitment team, he is also an NAACP member at his school, participates in UIL (University Interscholastic League) events and public speaking, and serves on the Dallas ISD Safety and Security task force. He is a former member of DECA (Distributive Education Clubs of America) and an active community volunteer. Taking IDEA's mission of developing young entrepreneurs to heart, Robert and a classmate started a T-shirt company their sophomore year, writing the business and marketing plan, managing the social media accounts and meeting with potential partners, investors, and mentors.
Robert credits his family for his success. "My mother keeps me grounded with words of encouragement and affirmations. My mom, late grandmother and family elders instilled in me the importance of being a man of honor with integrity; of being a person of your word; of believing in something greater than yourself, in knowing who you are and whose you are. They ensured that I understood the value of education and its importance in our daily lives. I also learned the importance of giving back and simply doing the right thing because it's right."
After being accepted to more than 25 colleges and universities, Robert has chosen to attend the University of North Texas in Denton, where he will major in marketing with a minor in African American studies. His goal is to join the marketing team of a major airline, real estate, or social media/tech firm after graduation. He hopes to one day develop his own community outreach organization so that he can positively impact the community where he grew up. 
In his spare time, Robert enjoys music, writes poetry, explores landscape photography and spends time with family and friends.