What job candidate wouldn't want the chance to work alongside a mentor, getting hands-on practice while observing an experienced person in the role? That is the opportunity given Sunset High School Principal Resident Jacob Nunez and six of his colleagues, who are the first to participate in Dallas ISD's one-year principal residency program.
"The residency is an opportunity for in-the-moment professional development, to grow and learn," says Nunez. He joined Dallas ISD as a world history teacher in 2005 and has been an assistant principal at Greiner Middle School, where he helped in achieving an Exemplary rating; Lassiter Early College, which won National Blue Ribbon Status during his tenure; Skyline High, where he was on a team that moved the school out of Improvement Required (IR) status; and Kimball High school, from which he was selected for the residency.
Comparing the residency to being in driver's ed, Nunez says, "It's an opportunity to 'drive the car' and, at the same time, get tailored feedback from a mentor. The in-the-moment feedback is what caught my eye. It's tailored to specifically what you need to grow, and you're matched with a mentor who is closely aligned to you. There are a lot of activities and assigned duties, but it's duties that will grow you and get you ready for a principalship."
His mentor, Sunset High School Principal Dr. Jesus Martinez, sees the value of the  residency as giving a potential principal access to the inner workings of the actual job. "It is a program that benefits potential candidates by giving them valid and real 'at-bats' for doing the job and getting used to the different aspects of the job that aren't always learned about as an assistant principal or in graduate programs."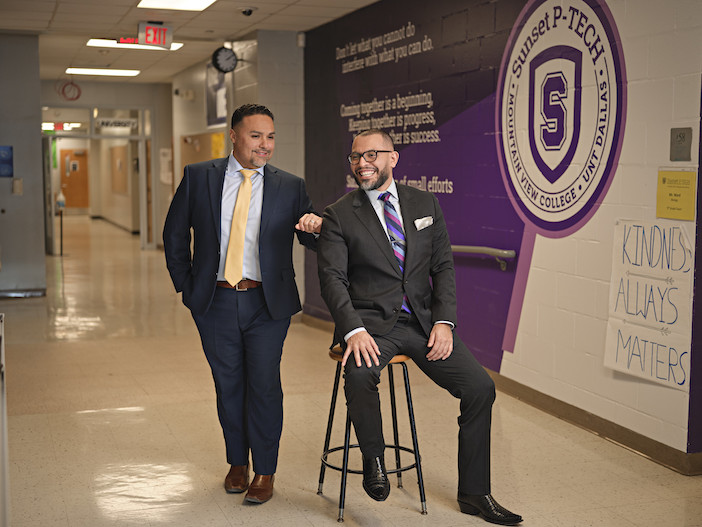 When you're a principal you have to adjust and pivot, Martinez says, and Nunez has had the chance  to do just that. When one of the school's assistant principals went elsewhere, the principal said, "I had to absorb that department, and I gave him a part as well," in addition to his other duties. "He's done a great job with it. It was a great opportunity in that it helped him realize that the role is very moldable and adaptable, so it was a real learning experience."
The duo had other challenges as well. For a while, the principal said, "we were homeless because the school was under construction, so we were working out of Adamson High School and then Pinkston High. Nunez came in during my first year as principal here, in the midst of a construction project, so he's gotten a real crash course in some of the things that can happen, even getting a chance to see the bond construction process up close. Sooner or later, he'll be a part of that process when he becomes a principal."
Martha Bujanda, director of the residency program and of new leader development, said the program is "an incredible opportunity to learn the work, to learn as you go, with your mentor principal at your side guiding you through the process of what it is to be a principal and the many different aspects that entails.
"We're giving them the experiences in the safe space of learning. That's the power of it," said Bujanda, who was a principal herself for nine years in Dallas ISD. "If I'd had the opportunity of actually shadowing a principal before I became one, learning at their side instead of learning on the job, I would have had a better understanding of how to address all the situations that arise after you become principal of a school."
The program was modeled after a similar program in Denver Public Schools, Bujanda says, where the residents exchange experiences throughout the year and develop specific competencies.
It is her hope that the residents will all get their own schools. "The district has invested a significant amount of time, money and talent in ensuring that we're growing our best and building our own pipeline. We believe in our own. The district has basically created the program for the purpose of developing and growing our own."
This year's residents are all people of color – with four African American males and one female, and two Latinos – one male and one female, which helps realize the district's goal of creating opportunities for equity.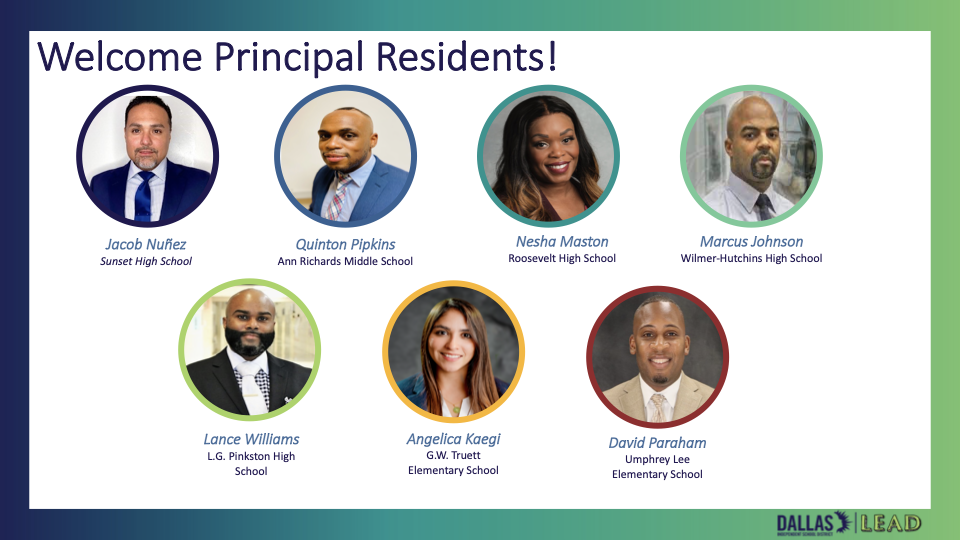 The residents meet at Dallas ISD's central office once a month as a full cohort to learn and deliver content. "We give them observational feedback," said Bujanda. "We'll practice here, and then they'll go and practice that in their schools. We're providing a framework around values-based leadership – we do a lot of internal adaptive work on being able to perceive and apply feedback in order to grow."
Nunez says he enjoys that part of the program as well. "You're on the campus doing your residency, and then you get to see other principals in action and see other campuses. We take field trips – not as many as we'd like because of Covid – but we do have field trips to look at the different campuses and see the things that are working for them, so that when we have our own school we can apply some of those things to what fits our campus. It really stretches your mind to think and turn things over and look at different styles of leadership."
"Every time we meet," he says, "we have an executive director or chief of staff tell us about a different side of things that you wouldn't normally see, and that's a good thing. They tell you about their journey, how they got there and the things they did to be successful. They tell you to always keep in mind that it's not about the position, it's about the purpose."
Martinez believes the residency program will give Dallas ISD an advantage over other districts because, "Our principal candidates will enter into the principalship better prepared and ready for the challenges that come with being a first-year principal."
He was more than willing to be a mentor in the program, he said, because, "I think the more you give to this business, the more you learn and grow yourself. I've learned and grown myself in the process, and I look forward to doing it again with another resident. My goal is for [Nunez] to get a position as a principal in our district and to hopefully continue the relationship as far as being a thinking partner. The more I can have those thought partners and develop those relationships, I think the better it will be for our business as a whole and for myself."