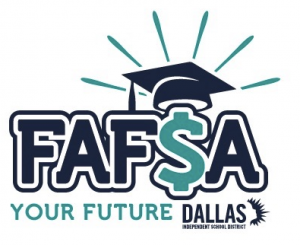 The 2021-22 Free Application For Student Aid (FAFSA) and Texas Application For State Aid (TASFA) are OPEN! Class of 2021, if you plan to attend college, congratulations! It is now time to begin completing your FREE financial aid application. What is financial aid? Financial aid is money from the federal government (FAFSA) or state government (TASFA) in the form of grants (free money), student loans, and/or work-study opportunities (grant). This application will provide institutions the information needed to determine how much financial aid you qualify for towards your college expenses. Don't think you qualify? Fill it out anyway! It is important to note that this application is required for some scholarship selection processes.
Fill out the FREE FAFSA application by visiting www.fafsa.gov Prefer a mobile app? The FAFSA form is on the myStudentAid app, available on the App Store (iOS) or on Google Play (Android).
Fill out the FREE TASFA application by clicking here: English and Spanish.
Did you know? Students who meet the following criteria may be classified as Texas residents, which may make them eligible for Texas financial aid. The criteria are:
Graduated from a Texas high school or received a GED certificate in Texas
Lived in Texas for three years before graduating from high school or receiving GED certificate
Lived or will have lived in Texas for 12 months prior to the census date of the semester in which they enroll in college
Has applied or plans to apply to become a permanent resident at the earliest opportunity
What do I need to fill out the application?
Your Social Security Number
Your Alien Registration Number (if you are not a U.S. citizen)
Your federal income 2019 tax returns, W-2s, and other records of money earned. (Note: You may be able to transfer your federal tax return information into your FAFSA using the IRS Data Retrieval Tool.)
Bank statements and records of investments (if applicable)
Records of untaxed income (if applicable)
An FSA ID to sign electronically.
Schedule an appointment for hands on virtual assistance filling out your financial aid application!
Great news! You do not have to face this application alone. Dallas ISD has provided College Access advisors at high school campuses to provide one on one virtual completion sessions. If you are needing assistance, please click your campus below to make an appointment ASAP! Priority deadline to completion an FAFSA/TASFA application is January 15,2021.
Disclaimer: Appointment availability may be a few weeks out due to high demand. Thus, it is important that once an appointment is scheduled it is vital to attend.