Nestled in the heart of downtown, Dallas ISD will launch a new offering for families seeking a more specialized learning approach. The Downtown Montessori, under the public school choice model, will open Fall 2020 under the direction of newly appointed principal Dr. Olga Korobovskaya.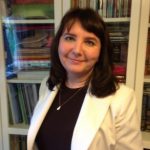 Her impressive background yields a range of high-quality skills with nearly 30 years of experience in education, as a teacher, principal and Montessori director. Korobovskaya utilizes a hands-on, supportive, and motivating leadership style, known to foster an inclusive, nurturing and stimulating educational environment.
Her vision for the start-up school is simple: develop an authentic Montessori program with a goal to acquire accreditation by one of the approved Montessori accrediting bodies.
While this may seem as a lofty goal, it's what inspires and reinvigorates her passion to share the Montessori method with families in and around Dallas.
She joined Dallas ISD in 2008 as a science teacher at Thomas C. Marsh Middle School, before transitioning to other roles in education. She has since developed a passion for the Montessori teach and was the principal at Pebblecreek Montessori before returning to serve the families at Eduardo Mata Montessori as the assistant principal.
Korobovskaya is a native of Russia, where she studied and became a medical doctor at Krasnoyarsk State Medical Academy before pursuing a career in education.
She believes helping children grow and learn is investing in the future.
"Working with children, I've learned to keep my mind open, and heart warm to see the possibility best in everything and everyone," said Korobovskaya. "I will do my best to help our school and community grow, inspire our staff to achieve our goals, support our families, and shape our students into great leaders of their own."