In celebration of School Board Recognition Month, we are spotlighting the nine dedicated unpaid volunteers who serve as Dallas ISD trustees.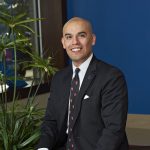 At the age of 27, Miguel Solis was elected to the Dallas ISD Board of Trustees in 2013 and has since been re-elected twice. He recently announced he will not seek reelection for his District 8 seat, which represents Love Field, Northwest Dallas and Central Dallas.
During his tenure on the board, Solis has served as President and Vice-President, making him the youngest ever to hold these positions. His efforts on the board have included drafting and unanimously passing the district's first early childhood education policy; drafting and unanimously passing a ban on out-of-school suspension for the district's youngest children, which has now become state law; co-drafting the historic racial, socio-economic and educational equity resolution, leading to the unanimous approval of a comprehensive racial equity policy and department; and helping to create the district's revolutionary teacher excellence evaluation, support, and pay system among other initiatives.
Solis also currently serves as the executive director of Coalition for a New Dallas, which is working to remove the physical and economic barriers that have divided Dallas neighborhoods, reinforced segregation and stifled economic opportunity. Solis' professional experiences also include serving as a staff member on President Barack Obama's historic 2008 presidential campaign, a Teach for America public school teacher, and Special Assistant to the Superintendent of the Dallas Independent School District (Dallas ISD).
Solis is a native Texan who received his B.A. in history with a minor in political science from Lamar University and his M. Ed. in education policy and management from Harvard University.
Dallas ISD is celebrating School Board Recognition Month throughout January. Join in by using the hashtag #SchoolBoardMonth on social media.