In celebration of School Board Recognition Month, we are spotlighting the nine dedicated unpaid volunteers who serve as Dallas ISD trustees.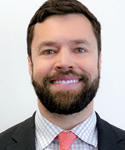 Trustee Ben Mackey served as principal of Dallas ISD's School for the Talented and Gifted from 2013 to 2019. During those years, U.S. News and World Report named the school, also known as the TAG magnet, the nation's top high school for four years. Under Mackey's leadership, TAG revamped its application process with a focus on equity and access, resulting in the school being recognized as a federal Title I school for the first time. Over the same period, academic achievement at TAG soared with the school reaching all-time highs on SAT, ACT, and Advanced Placement (AP) achievement.
Mackey represents District 7, which covers North Central oak Cliff, Cockrell Hill and parts of West Dallas.
Mackey earned his master's degree in school leadership from Harvard University and his bachelor's degrees in finance and history from the University of Florida. He began his education career as a math instructor through Teach for America at West Bolivar High School in Rosedale, Mississippi.
While principal at TAG in 2016, Mackey was named a finalist for Dallas ISD Principal of the Year in 2016 and was recognized as a Dallas ISD Master Principal in 2018. He was also named to the Dallas Business Journal's list of "40 Under 40" rising young leaders in Dallas and served on the Mayor's Star Council.
Mackey serves as chief of Research, Evaluation, and Design in DeSoto ISD.
Dallas ISD is celebrating School Board Recognition Month throughout January. Join in by using the hashtag #SchoolBoardMonth on social media.