In celebration of School Board Recognition Month, we are spotlighting the nine dedicated unpaid volunteers who serve as Dallas ISD trustees.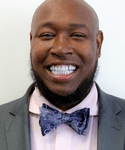 Maxie Johnson was elected to the Dallas ISD Board of Trustees to represent District 5 in May 2019. District 5 is a large and diverse district that spans West Dallas, Oak Lawn, Uptown, and a large portion of South Oak Cliff. Trustee Johnson has been an active community member throughout the district for decades.
Learn more about Johnson here!
Johnson is deeply invested in the quality of district schools and the success of all of our students. He has worked in the community for more than 15 years as a community liaison, community organizer, and football and baseball coach. He has worked to empower kids, his community, and their families to work toward common goals.
Dallas ISD is celebrating School Board Recognition Month throughout January. Join in by using the hashtag #SchoolBoardMonth on social media.