In celebration of School Board Recognition Month, we are spotlighting the nine dedicated unpaid volunteers who serve as Dallas ISD trustees.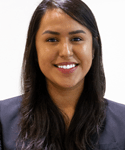 Trustee Karla Garcia is a proud native of Southeast Dallas and a product of Dallas ISD schools. Garcia was inspired to run for Dallas ISD District 4 trustee because she wanted to address the inequities that she saw in the public school system, particularly in Southeast Dallas. Her goal is to represent the perspective and needs of students in her community.
Garcia's parents came to the United States from Guanajuato, Mexico, with a dream of a bright future for their children. Her parents' strong desire to see her obtain a college education, led Garcia to attend Dallas ISD's Irma Lerma Rangel Young Women's Leadership School, the first public all-girls magnet school in the state of Texas. She was the first in her family to attend college and studied public policy and entrepreneurship at the University of North Carolina at Chapel Hill.
Garcia has traveled extensively to broaden her global perspective. During her last semester at UNC, she worked at the White House Initiative on Educational Excellence for Hispanics at the U.S. Department of Education. Her unique experiences in the private and public sectors while working in Washington, D.C., London and Dallas have helped solidify her aspirations in public service.
After graduating from UNC, Garcia returned to Dallas looking for a way to have an impact in her local community. She is currently working with the Dallas County Promise to make college education possible for all students.
Dallas ISD is celebrating School Board Recognition Month throughout January. Join in by using the hashtag #SchoolBoardMonth on social media.