In celebration of School Board Recognition Month, we are spotlighting the nine dedicated unpaid volunteers who serve as Dallas ISD trustees.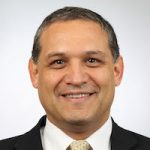 After serving as a Dallas ISD trustee from 2005–2012 and then sitting out a term, Edwin Flores was again elected to the board of trustees in 2015.
As the trustee for District 1, Flores represents Northwest Dallas, including North Dallas, Addison, parts of Carrollton and Farmers Branch.
Outside of his advocacy for and support of Dallas ISD, Flores is the managing partner and founder of the Intellectual Property law firm of Chalker Flores LLP, in North Dallas, where he focuses his practice on biotechnology patent law.
Before starting his firm, Flores was an associate at the Gardere firm in Dallas. Flores also served as an Assistant District Attorney in Dallas County as part of the lawyer-on-loan program under District Attorney Bill Hill. Flores was born and reared in Mexico City and is fully bilingual and bicultural.
Go here to learn more about Flores!
Dallas ISD is celebrating School Board Recognition Month throughout January. Join in by using the hashtag #SchoolBoardMonth on social media.