Residents of the Buckner Terrace neighborhood in southeast Dallas may be doing double-takes when they pass Edna Rowe Elementary School on Hovenkamp Drive thanks to a recent face-lift that has given the school new curb appeal. Rowe received $16 million in construction upgrades funded by the district's 2015 Bond Program.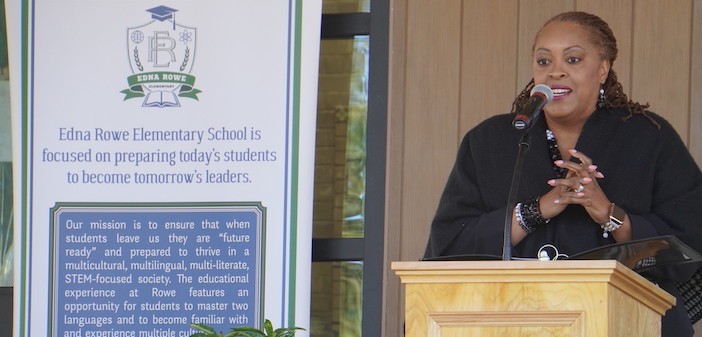 On Nov. 1, Principal Sharon Crockett-Alexander welcomed Dallas ISD leaders, city officials and neighbors of the southeast Dallas school to a ribbon-cutting held to mark the formal unveiling of the school's construction improvements. The Skyline High School JROTC Color Guard opened the program accompanied by a pair of fifth-graders who led the audience in the Pledge of Allegiance. The event included a lively musical performance by the school's choir.
Standing on the steps of Rowe's new covered porch and entryway, Principal Alexander thanked the community for its support of the school and the bond package that funded the construction upgrades. The improvements include a new front porch and lobby, a covered side entryway, administrative offices a clinic and media center, new seating in the school auditorium, new parking, upgraded technology, lighting and security, and an expanded cafeteria with new seating and tables.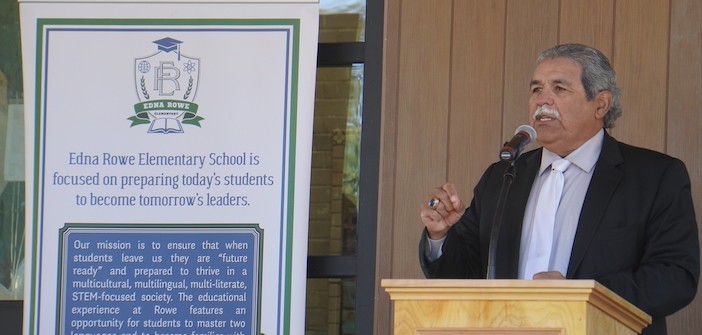 Superintendent Michael Hinojosa said the work has given the school a new level of curb appeal that students and the community can enjoy with pride. Dallas ISD District 9 Trustee Justin Henry and Dallas City Councilman Adam Bazaldua also had praise for the improvements and the Rowe staff and encouraged continued community support for the staff and students.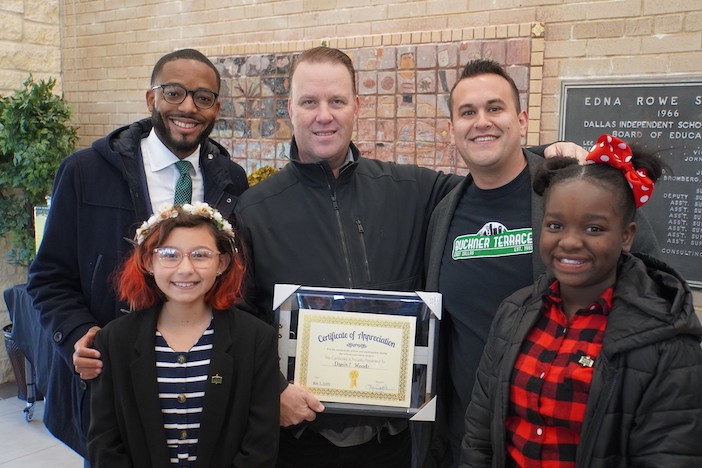 The principal presented certificates of appreciation to Buckner Terrace Homeowners Association representative Daniel Wood for the neighborhood's support and to the school's custodian Blenthia Carter for her devoted service.
Following the ribbon-cutting by program participants, guests enjoyed refreshments and tours of the new space.