Dallas ISD seniors at participating high schools are eligible to apply for the Dallas County Promise (DCP) Scholarship.
Through this program, students can earn a last-dollar tuition scholarship to any Dallas County Community College District schools and partner universities. A last-dollar tuition scholarship covers any cost of tuition that need-based aid and scholarships do not cover.
All eligible seniors can take the Promise Pledge on the DCP website. This is the first step to enroll in the DCP scholarship program.
All seniors from 57 participating campuses located within Dallas County are eligible for this assistance. Among the 57 campuses are 31 Dallas ISD high schools.
Students must take the pledge before Feb. 7 and adhere to all DCP deadlines.
We spoke with Derek DeYonge, a college readiness and success associate at DCP. He assists students and parents at 11 high schools throughout Dallas County.
What is the Promise Pledge?
The Promise Pledge is a short form that you can fill out at the DCP website. You just go on our website and select "The Pledge" at the top of the page.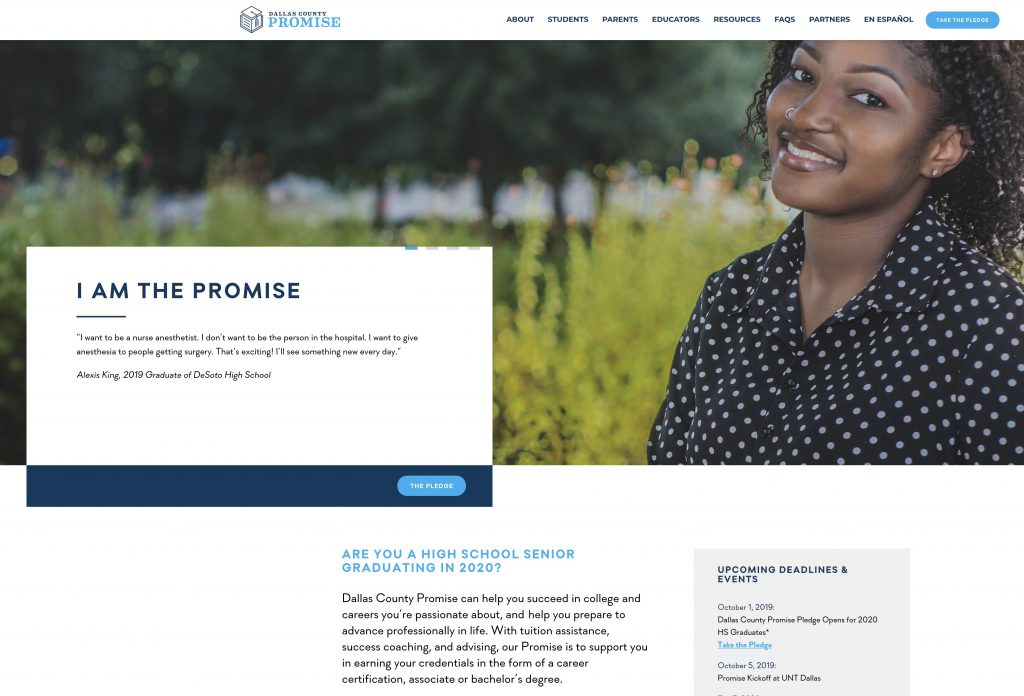 You're just going to fill out some information about where you're from, where you're interested in going, and really, you're just pledging to go to college. You're just pledging to pursue a higher education and you're promising that you're going to be seeking that next step after high school.
What are some deadlines to keep in mind?
There are three main deadlines to be eligible to the Dallas County Promise.
Feb. 7 is the first deadline. That's when you have to have, at least, the Pledge submitted and your application submitted to at least one of our partnering colleges.
By March 6 is when you have to have your financial aid information completed with one of the colleges of choice. That includes the FAFSA or TASFA.
The final deadline is July 31. That is the last day you have to enroll in courses at one of our partnering institutions.
Why should students do it now?
There are those three main deadlines to keep in mind when you're going through the Promise process.
What's important to know is, even though we have these set dates, it doesn't mean that you have to wait until the last minute. We actually encourage you to do it as soon as possible. The Promise Pledge opened on Oct. 1t, the same day as FAFSA. It's open right now.
If you miss any of those deadlines, you won't be eligible for the Promise program any further. So it's definitely important to do it as soon as you can.
Who is eligible to apply?
Any senior at one of our 57 partner high schools is eligible to apply for the DCP. Any of those students are able to go online right now.
A student must also be classified as a Texas resident at their college and be eligible for in-state tuition to qualify for Promise. (this is still possible for DACA/DREAMer students)
And this is at no cost to you, so there's no obligation or no penalty. If you decide that you want to go to a different college or one that's not one of our partner institutions, that's totally fine. At the very least, it's something that you can have in your back pocket as an option.
Which Dallas ISD high schools are eligible?
Bryan Adams High School
David W. Carter High School
Dr. Wright L. Lassiter Jr. Early College High School at El Centro College
Emmett J. Conrad High School
Franklin D. Roosevelt High School
H. Grady Spruce High School
Hillcrest High School
Innovation, Design, Entrepreneurship Academy at James W. Fannin
James Madison High School
Judge Barefoot Sanders Law Magnet at Yvonne A. Ewell Townview Center
Justin F. Kimball High School
Kathlyn Joy Gilliam Collegiate Academy
L.G. Pinkston High School
Lincoln Humanities/Communications Magnet
Moisés E. Molina High School
North Dallas High School
Rosie M. Collins Sorrells School of Education and Social Services at Yvonne A. Ewell Townview Center
School of Business and Management at Yvonne A. Ewell Townview Center
School of Health Professions at Yvonne A. Ewell Townview Center
School of Science and Engineering at Yvonne A. Ewell Townview Center
Seagoville High School
Skyline High School
South Oak Cliff High School
Sunset High School
Thomas Jefferson High School
Trinidad "Trini" Garza Early College High School at Mountain View
W.H. Adamson High School
W.T. White High School
W.W. Samuell High School
Wilmer-Hutchins High School
Woodrow Wilson High School