There are 10 students who are selected each year to represent the districts of the Texas Library Association.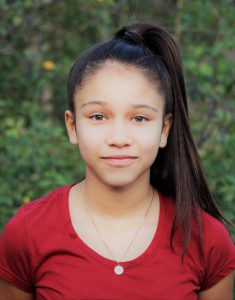 Giselle Aguilera, a fifth-grade student at the School for the Talented and Gifted in Pleasant Grove, represented District 5 at the Bluebonnet Luncheon on Wednesday, April 17, 2019.
Aguilera is a leader (fifth-grade student council president), a reader, and an athlete. She participates in many other extracurricular activities, including soccer. She was highly recommended by her teachers to have the honor of representing her school and Dallas ISD.
Aguilera has a great family that is very active within the school. Her application was the first to be placed by a student's librarian, Laurie Fuentes. The Bluebonnet Award is given to an author and illustrator who the children of Texas, grades 3-6, recognizes their book by popular vote. The program was started to promote pleasure reading.
The 2018-2019 Texas Bluebonnet Award Winner was Sergeant Reckless: The True Story of the Little Horse Who Became a Hero by Patricia McCormick, illustrated by Iacopo Bruno.
This is the 10th year that Dallas ISD has had a student on stage at the Bluebonnet luncheon.  This year Dallas ISD Library Media Services was given a shoutout  for their continued participation in the Texas Bluebonnet Program.