Barbara Brown McCoy is considered a trailblazer in Dallas ISD athletics for her accomplishments as a student-athlete, head coach and administrator at South Oak Cliff High School.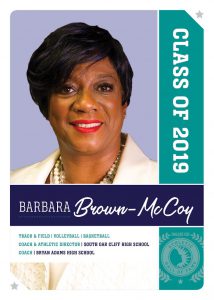 Brown McCoy was one of the first beneficiaries of the recently passed Title IX legislation in 1972 as she honed her skills at Zumwalt Junior High before moving over to SOC in 1974. It didn't take long for Brown McCoy to display her athletic prowess as she excelled in track & field, volleyball and basketball. She was a city champion in the aforementioned sports but became most known for her efforts in the game of basketball.
Under the guidance of legendary head coach Gary Blair, Brown McCoy was a natural in basketball. With girls basketball under the 6-on-6 format at the time, Brown McCoy spent most of her time on the defensive end of the court and was a prolific shot blocker, rebounder and passer en route to All-American honors. She led SOC to a 102-9 mark in her three years of varsity play while also making history as a member of the first girl's team from Dallas to win a state championship in 1977.
Brown McCoy continued to improve and excel in basketball after graduation as she still ranks as one of the all-time greats at Stephen F. Austin under Sue Gunter. The SFA Hall of Famer and former All-American currently ranks third in scoring amongst all-time scoring leaders in SFA history with 2,023 points, fourth in rebounding (1,240), fourth in field goals (815) and sixth in free throws (393). Brown McCoy was also a medal winning member of the 1978 United States Select Team and the 1979 Pan American and World Championship teams. Brown McCoy also won a gold medal at the 1979 Jones Cup Tournament in Taiwan. She was picked to participate on the 1980 United States Olympic Team but the team didn't participate due to the boycott that year in Moscow.
Brown McCoy returned to Dallas following her stellar career at SFA and started coaching at Bryan Adams. She eventfully returned to her alma mater and displayed the same magic touch that was prevalent during her playing career as she guided SOC to the 1986 state tournament. Once again, Brown McCoy continued to blaze new paths as she was tabbed the first-ever female campus athletic director in DISD history in 2001. Under her watch, SOC would continue to raise the bar with multiple district, regional and state titles in various sports.
In addition to her membership in the SFA Hall of Fame, Brown McCoy is also a member of the Texas Black Sports and Texas High School Hall of Fames.