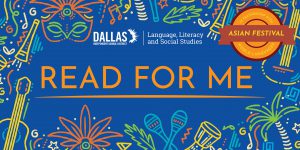 Read for Me is an interactive, multi-cultural literacy experience designed to instill a love for books and reading in parents, students, and community members.
The event is set for 8 a.m.-1 p.m. Saturday, March 23, at W.H. Adamson High School, 309 E. 9th St. Admission and parking are free.
In addition to breakfast, lunch and giveaways of 10,000-plus books, the event will feature talks by motivational speaker Danny Brassell and Ike Ramos, an artist from Flocabulary, a company that creates educational hip hop songs, videos and learning materials for students.
Learn more at www.dallasisd.org/readforme. Register today for the free event here.