Sometimes it's more important to help a stranger than run your hardest – a time when good sportsmanship overcomes the desire to win.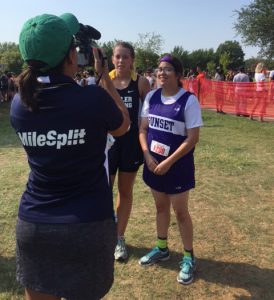 That was the case during the Sept. 2 Marcus I Invitational cross country meet for Katie Shaw, a member of the Sunset High School team. She saw a fellow runner on another team – Sydnee Olive of Keller High School – struggling to keep moving forward. Katie slowed to encourage Sydnee, and both crossed the finish line together.
"I was dying out there, this is my first race," Olive told Texas Mile Split. "I didn't think I was going to be able to finish. She kept pushing me, telling me I wasn't allowed to walk."
Shaw said she just couldn't leave Olive behind. "To me it's just running. I like to run. I wasn't really thinking about winning," Shaw said. "I want to help people."
Watch the full interview here.