Angela Morris Watts siempre supo que la biblioteca es un lugar especial, incluso cuando era estudiante de primaria.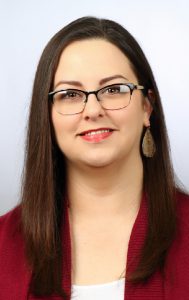 "A medida que iba creciendo, me seguía encantando la lectura, aunque también comencé a disfrutar encontrar respuestas a mis preguntas", dijo Watts. "Cuando me hice maestra de lectura, me gustaba llevar a mis estudiantes a la biblioteca y ayudarles a encontrar libros para leer, y hacer proyectos de investigación con ellos. ¡Mi bibliotecaria pensó que me gustaría ser bibliotecaria y tenía razón!"
En los últimos siete años, Morris ha sido bibliotecaria de Thomas Tolbert Elementary School, y recientemente fue nombrada bibliotecaria del 2017-2018 de Dallas ISD.
Ella dice que lo que más le gusta de su trabajo es poder ayudar a los estudiantes y maestros a encontrar libros que disfrutarán.
"Ayudo a los estudiantes a encontrar excelentes libros que los mantendrán interesados y les ayudarán a desarrollar sus habilidades de lectura y de razonamiento", dijo Watts. "También, les ayudo a encontrar y evaluar información que necesitan para completar tareas o satisfacer su curiosidad. A los maestros, les apoyo para encontrar recursos que mejorarán sus lecciones. Hay tanto que las bibliotecarias hacemos para reforzar la educación de los estudiantes que es difícil recordarlo todo".
Watts dice que los estudios afirman que la mejor manera de aumentar el número de lectores hábiles es ayudando a las personas a encontrar y leer libros que les interesen, y es seguro que en las bibliotecas escolares lo pueden lograr.
"El tener a una bibliotecaria cualificada y una biblioteca con una gran selección de libros en una escuela primaria ayuda a prevenir que los estudiantes se retrasen en el desarrollo de sus habilidades de lectura y a crear un lector y aprendiz de por vida", indicó Watts. "También, les permite a estudiantes de todo nivel económico tener acceso a material de lectura que necesitan y quieren".
Watts dijo que cualquier maestro que esté en busca de información, o maneras de enseñar una destreza difícil de aprender, puede ir con la bibliotecaria de la escuela que generalmente es la persona indicada para ayudar.
Gay D. Patrick, directora de Servicios Bibliotecarios y de Medios del Dallas ISD dijo que Watts ha alcanzado muchos logros durante el tiempo que lleva en Tolbert.
Particularmente, hay que mencionar el trabajo que ha hecho para que Tolbert haya sido seleccionada como la primera escuela en Dallas en organizar el evento Reading Rock Stars, recibir la visita de un autor y realizar el programa de donación de libros por medio del Festival de Libros de Texas. En mayo, tres escritores para niños, conocidos a nivel nacional, entre ellos la primera dama Laura Bush, visitaron la escuela como parte del programa.
"Angela Watts es un excelente ejemplo de lo que la labor que realizan las bibliotecarias diariamente en apoyo a los estudiantes, maestros y las escuelas, y de todas las funciones que desempeñan", dijo Patrick.
Watts obtuvo su licenciatura en educación secundaria de Southwestern Assemblies of God University, y la maestría en bibliotecología de la UNT y maestría en educación de Southwestern Assemblies of God University.
"Ha sido una gran experiencia trabajar como bibliotecaria en Dallas ISD", dijo Watts. "Es increíble poder trabajar de cerca y aprender de algunas de las mejores bibliotecarias en el estado".