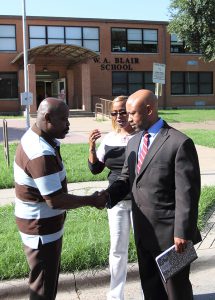 Leslie Moore got an unexpected call on her way to work – a Richardson church wanted to take donated backpacks and school supplies to W.A. Blair Elementary School that morning.
Just after 9:30 on Wednesday morning, Aug. 24, a black SUV loaded with items pulled to the front of the school. The bounty came as a donation from First Baptist Church of Hamilton Park. Pastor Gregory Foster, staff and church members dropped off the donations.
There are about 100 backpacks and the school supplies to fill them – notebook and construction paper, spirals, boxes of crayons, folders, glue and glue sticks, pens, pencils, markers and pencil boxes. The church has donated to schools for the past 15 years or so.
Staff member Gail Stein said that one of their families has a child who attends the school. She recalls that member saying that they knew of a school in need. "Well, you know what? We're a church family that's going to bless," she said.
Nearly all the students who attend Blair qualify for free or reduced lunches.
"We have so many students who are in need," said Moore, the school's counselor. "Knowing you have come through for so many students – not just one or two – that truly helps bridge the gap so the kids can continue to learn."
The donation was made through the church's Annie Pearl Foster Center for Youth Enrichment.