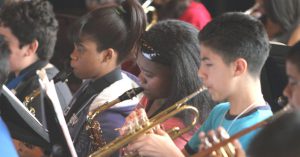 Dallas ISD's finest band musicians will take center stage this Saturday for the all-city band concert at Moises Molina High School. Many of the 200 student musicians have proven their skill by performing difficult musical selections in multiple rounds of district and regional contests.
On Friday and Saturday, Jan. 29 and 30, these middle and high school band stars will practice and perform during a special clinic sponsored by the district's Visual and Performing Arts department. Each year, the department brings in noted music educators to work with the district's talented young musicians in preparation for the all-city band concert. Special guest conductors Christian Holzer from Frisco ISD and Jack Delaney, band director at SMU, will take students through their paces and conduct the culminating concert at 6 p.m. Saturday in the Molina High School auditorium at 2355 Duncanville Road.
Dallas ISD Director of Instrumental Music Tim Linley says the concert will highlight the students' musical expertise and the fantastic instruction they receive from their school band directors. He says that same level of talent and hard work extends to the district's orchestra and choir programs. The payoff is polished and confident musicians, 19 of whom have been named to the Texas Music Educators Association roster of all-state musicians, the highest individual honor available to Texas music students.
"These students represent the top one percent of all student musicians in the state and will be invited to perform in the all-state concerts staged in February in San Antonio," Linley said. "We could not be more proud of these all-state musicians who truly represent the best of the best of student musicians from around the state of Texas."
The students who received all-state honors include:
Rebecca Brandt (All State Orchestra – Booker T. Washington HSPVA)
Jose Christobal (All State Choir – Booker T. Washington HSPVA)
Jesse Dale (All State Orchestra – Booker T. Washington HSPVA)
Megan Darlington (All State Band – Booker T. Washington HSPVA)
Lindsey Galvan (All State Choir – Booker T. Washington HSPVA)
Brittany Hewitt (All State Choir – Booker T. Washington HSPVA)
Kenoly Kadia (All State Choir – David W. Carter HS)
Garielle Masters (All State Choir – David W. Carter HS)
Erika Morgan (All State Choir – Booker T. Washington HSPVA)
Adam Phan (All State Orchestra – Booker T. Washington HSPVA)
Christopher Robertson (All State Choir – David W. Carter HS)
Carlos Romero (All State Choir – Booker T. Washington HSPVA)
Caleb Rose (All State Choir – Emmett Conrad HS)
Jeremiah Tyson (All State Choir – Booker T. Washington HSPVA)
Michael Valderas (All State Choir – W.T. White HS)
John VanGorden (All State Choir – Booker T. Washington HSPVA)
Eric Vasquez (All State Band – Booker T. Washington HSPVA)
Sierra Worman (All State Choir – Booker T. Washington HSPVA)